Looking for exhilarating events and amazing activities to make your World Book Day one to remember? Take inspiration from these suggestions by Kay Clifford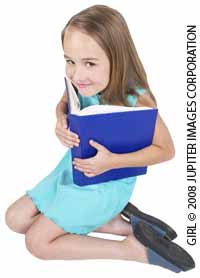 World Book Day was designated by UNESCO as a worldwide celebration of books and reading, and is marked in more than 100 countries around the globe.
As part of this celebration, each primary child in the UK and Ireland will be given a £1 or €1.50 book token from National Book Tokens.
Many schools celebrate World Book Day by either holding a day of special events and giving out the book tokens, or by organising a whole Book Week with a range of book-related activities, such as author visits and parades.
Here are 16 suggestions for events and activities which should help to make your World Book Day extra special.
Make use of the information and activity ideas in the World Book Day Schools pack that will be sent to your school in January, together with the book tokens. See www.worldbookday.com for more information.
Book an author. Having an author in the school can really motivate the children and inspire them to create great pieces of work. There are several relevant websites, including www.literacytrust.org.uk www.contactanauthor.co.uk and www.ncll.org.uk. If money is short, try sharing an author with a neighbouring school or cluster/pyramid of schools. (Of course you will have to check out the programme you want with the author you choose.)
Hold a Book Week in your school. Think of a theme for the week and base all your activities on books based around that theme – for example 'Animals', 'Around the World', 'Fairy Tales' or 'Toys'. Of course your activities can be cross curricular so all areas of the curriculum can still be covered.
Invite a Book Fair into school. Encourage children to use their tokens to buy books, and you can usually earn free books for your school. Visit www.scholastic.co.uk/bookfairs for more information.
Hold a Book Day Parade. World Book Day would not be complete without the children dressing up. Ask the children to choose a favourite book character and dress up as that character. If you have chosen a Book Week theme, perhaps they could wear something linked to the theme.
Try a 'Book Swap'. Encourage children to each bring in a book that is in good condition and swap with someone else. Explain to younger children that once swapped they will not get their book back again! Alternatively, donate the collected books to a charity or sell them to raise money for your school. You could include adults in this too by opening the book stall up after school so that parents/carers can swap or buy books. It is very worthwhile to show the children that people of every age can enjoy reading.
Have a 'choose a story' session. Each member of staff stands in the assembly hall with a book and reads the title of their story. The children from the whole school can then choose which story they would like to hear. Each member of staff should end up with a mixed group of children to read to. The children love being with others from classes of different ages.
Organise a "shared reading" session where older children read with younger children. The younger children will enjoy sharing their work with the older ones; and the older children will feel proud that they can help the younger ones read.
Compile a Class/School Top 10 of favourite books. Encourage children to write book reviews, and perhaps even try to get some published in the local newspaper. You could also try to persuade the local radio station to interview the children about their favourite books.
Provide lots of competitions for the children such as 'Design a book mark', 'Write a poem about…' 'Compose a story about…'; 'Make a puppet based on a book character', 'Make a class Story Sack'; 'Design a board game based on your favourite book'. If you can organise books as prizes and present them in assembly it will encourage participation and further promote reading as a worthwhile activity.
Try to involve parents and carers in the day/week as much as possible. Research has shown that children achieve more when their main carers are involved with what they are doing. (See Feature Article in Literacy Time Ages 7 to 9 Issue 56). To do this you could have timetabled sessions in the hall when parents/carers are invited to join the children in book-related activities. These might include word games, a reading den, writing a poem, listening to talking books, making a story tape and book together, creating puppet shows, using reading games on the computers, a book treasure hunt, role playing stories, reading comics together, make your own book together, etc.
Use World Book Day or your Book Week to promote reading to parents. Hold a reading meeting explaining to parents how you teach reading in school, or how they can help their children with reading at home. Even if you already have a similar meeting at another time during the term, World Book Day is an excellent opportunity to promote to the parents that they can never spend enough time reading to or with their children.
Find out about authors/illustrators. (See Literacy Time online Author Profiles). The children could make a class book about their favourite authors or illustrators.
Organise a visit to the local library or bookshop. Maybe you could set up a bookshop in the role-play area in your classroom.
Have a 'Bedtime Book Party'. The children could come to school in their pyjamas, each with their favourite bedtime story book to share with friends in class. Make a 'Bedtime story collection' of stories the older children have composed themselves for the Foundation Stage children.
Make sure your assembly on World Book Day is a celebration assembly, incorporating the importance and enjoyment we get from books, and celebrating the children's achievements during the day/week relating to reading, writing, books, stories, poems, and authors.
*This article was originally published in Literacy Time PLUS for Ages 5 to 7, January 2008.