For a small fee, hold a 'Mr. Funny's Red Nose Day' event for families at your setting on Red Nose Day to raise funds for Comic Relief. Serve Red Nose biscuits and red drinks, and have lots of fun sharing the book and laughing at the improbable events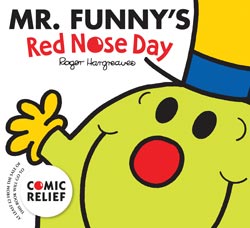 Mr. Funny's Red Nose Day has been specially written to make people smile and to raise funds for Red Nose Day. It features Mr. Funny and his efforts to cheer up his friend Mr. Grumpy
Personal, Social and Emotional Development
Explain the meaning of 'comic' and 'relief' to everyone. Talk about how purchasing a copy of Mr. Funny's Red Nose Day will help to buy food for a hungry African child, or provide support for vulnerable people. After reading the story, discuss the importance of helping people and cheering them up, just as Mr. Funny cheered up his friend Mr. Grumpy.
Invite the children to tell your visitors their favourite part of the story. Talk about what cheers us up when we feel grumpy or sad.
Explain that Roger Hargeaves wrote the first Mr. Men book, Mr. Tickle, after his son Adam asked him what a tickle looked like. He drew a round, orange shape with long, wiggly arms. Consider how feelings might be represented as storybook characters, for example, Mr. Funny's big round face, wide smile and silly hat could represent happiness. Invite everyone to draw faces representing feelings such as sadness, anger and excitement.
Communication, Language and Literacy
Show everyone the illustration in the book of Mr. Grumpy. Is this a suitable name for a grumbling person? Is Mr. Funny a suitable name for someone who makes us laugh? Make up names based on individual talents, or the clothes people are wearing, for example, Mr. Fix-it, Little Miss Smile or Little Miss Green. If anyone suggests negative names, sensitively discuss why this is not appropriate.
Mr. Funny's nose grows and grows to become the 'largest, most ridiculous, quite preposterous red nose you have ever seen'. Discuss the meaning of 'ridiculous' and 'preposterous'. Make up funny sentences together using these words, for example, 'an elephant living in a bird's nest is ridiculous and quite preposterous'.
Talk about the words used to describe sounds that Mr. Funny and Mr. Grumpy make, such as 'snorted'; 'giggled'; 'muffled'; and 'roared with laughter'. Have fun making sounds to represent these noises.
Problem Solving, Reasoning and Numeracy
Show the sequence of illustrations demonstrating Mr. Grumpy gradually smiling as Mr. Funny's nose grows bigger. In groups, make red card noses in different sizes and arrange them to depict Mr. Funny's nose growing. Point to the 'biggest' and 'smallest', and introduce the words 'bigger' and 'smaller' when comparing sizes.
Discuss the shapes of Mr. Funny's house, bed and car. Why do they suit Mr. Funny? Provide everyday items, such as plastic cups and baskets and encourage everyone to create unusual houses, beds and cars for small-world characters.
Invite groups to cut out paper designs for funny shoe-shaped cars, and then print, paint, collage or draw patterns on them. Add the cars to a long paper road.
Knowledge and Understanding of the World
Ask the children why we wear boots and why is it funny to see giraffes wearing boots? Why is the car made from a shoe funny? What are cars usually made from? Discuss how improbable things are often funny, and imagine some strange combinations.
Discover other funny Mr. Men and Little Miss characters by visiting Mr. Men Visit Red Nose Day for more activities relating to Mr. Funny's Red Nose Day as well as other Mr. Men and Little Miss characters.
Take digital photographs of the children and adults pulling funny faces. Cut them out and attach red scrunchy tissue noses to the faces. Attach a drawing of Mr. Funny, complete with a similar nose, on to the centre of a display board. Surround it with the photographs, along with the caption, 'We are wearing red noses for Mr. Funny's Red Nose Day'.
Physical Development
Display the page showing Mr. Funny pulling the 'funniest face he knew'. Invite everyone to pull funny faces to make each other laugh.
Provide Mr. Grumpy shapes cut from blue card and invite groups of children and adults to draw his features on each one, varying them to show his mouth changing from happy to sad. Mix up the cards and rearrange them so that Mr. Grumpy starts off looking very unhappy and gradually becomes happier.
Invite everyone to help create a collage depicting a busy Red Nose Day. Cut out people and animal images from catalogues and magazines and stick them on to a huge sheet of paper. Add red circle noses cut from red card to the images.
Creative Development
Before carrying out this activity, create several simple puppet representations of Mr. Funny and Mr. Grumpy from card shapes and dowelling sticks. Show Mr. Funny with different-sized noses and Mr. Grumpy with different mouth shapes. Provide additional props such as a soft toy giraffe with 'baby sock' boots. Re-enact Mr. Funny's Red Nose Day to the children and visitors, charging a small extra fee for the performances, if appropriate.
Make up a song about Mr. Funny's Red Nose Day to the tune of 'Here We Go Round the Mulberry Bush' and provide song sheets for everyone to join in.
'Mr. Funny makes us laugh, makes us laugh, makes us laugh.
Mr. Funny makes us laugh, on Red Nose Day in the morning.'
Other verses could include:
'We wear red noses…'/'We pull silly faces…'/'We grimace and grim to make us laugh…'.
Create Mr. Funny's house in the role-play area using funny things, such as a boat-shaped bed; upside-down pictures; slippers in the kitchen sink; and plastic flowers in the kettle. Surround the outside walls with images of teapots and hang red balloons above. Provide red noses, silly hats and gloves. Invite the children and adults to take turns to visit Mr. Funny's house in small groups.