Allison Lee offers advice on naming your business; claiming back expenses incurred on outings; and provides some 'Transport' activity ideas
Expert advice
Naming your childminding business
Many childminders choose to give their business a name. Whether or not you choose to name your business, or simply trade under your own name, is entirely up to you. However, having a name can be effective on leaflets, business cards and advertisements, and 'quirky' names can help to sell a business if they stick in people's minds.
Ofsted have no objections to childminders giving their business a name, but they have stipulated that registrations with the appropriate authority will continue to be in the provider's own names, regardless of whether they have a business name or not. Before deciding on what to call your business, you may like to consult with your local children's information service and check your local telephone directory to ensure that you do not choose a name that another provider is already using.
Finally, when choosing a name for your business, remember that there are certain titles that require official permission before they can be used for example, National, Royal, British, Society, Trust or Limited, and these should therefore be avoided.
Q&A
I take the children in my setting on regular outings, which they thoroughly enjoy. Can I claim back expenses that I incur on these trips?
Providing that you pay for the cost of the trips yourself, and do not expect parents to contribute to the amount, then you can claim the costs back as a business expense.
Transport costs, such as bus and train fares, along with admissions fees, can be claimed for the children that you look after and for yourself, as long as these are provided as part of your childminding service. Remember to keep all your receipts as proof of your travel and entry expenses (unless these amount to less than £10).
Transport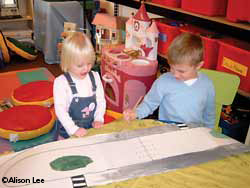 Take to the road
Create a road mat
Knowledge and Understanding of the World
What you need
Large pieces of card; sticky tape; paints; paintbrushes.
What to do
Stick several pieces of card together to create the template for a road. Create the road markings by painting white lines, zebra crossings and traffic cones on the 'road'. Make traffic signs from smaller pieces of card and stick these in place.
When dry, provide the children with a selection of vehicles to drive along the road. The road mat is an excellent way to introduce different types of vehicles; road safety and road signs.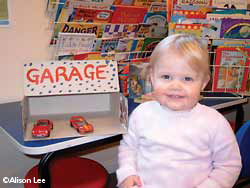 In the garage
Make a garage
Creative Development
What you need
Empty cereal box; paints; paintbrushes; old magazines or catalogues; glue; small toy cars.
What to do
Cut the ends off one side of a cereal box, then cut halfway along the top of the box on both sides and bend the flap out to create the garage 'sign'. Paint the box and leave to dry.
Paint the word 'garage' on the flap. Cut out pictures from old magazines or catalogues showing objects that you might find in a garage such as tyres, tools and so on, and stick the pictures to the sides of the box. When dry, provide the children with appropriate-sized cars to 'fix' in the garage.
If appropriate, extend the activity by using more boxes to create a bus station, airport or train station.