A Red Nose Day special is being filmed today down on the farm. So join Brenda Whittle and get your class e-i-o-ing for charity!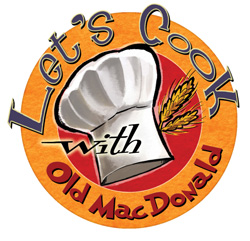 The theme for this year's Red Nose Day on 13 March is: 'Do Something Funny for Money'. With that in mind, Red Nose Day is sure to be a winner, with children in schools up and down the country giving hard-pressed teachers the opportunity to put targets and assessments to one side for the day, and enjoy some fun with their classes.
In our Red Nose Day extravaganza children can participate in their own cookery show, by concentrating on the following:
Wear Something Funny for Money.
Perform Something Funny for Money.
Bake Something Funny for Money.
Watch Something Funny for Money.
Choose a theme
In order that all the children have the chance to 'Wear Something Funny', it will help to choose a theme for the event. This could be a nursery rhyme, story or a song. Bear in mind that the cookery programme will also be based around making biscuit characters from that theme, all with Red Noses. So, you might decide on 'The Three Little Pigs', 'The Gingerbread Man' or, as the example given here, 'Old Macdonald Had a Farm', where all the characters have Red Noses.
Before the event
Tell the children what Red Nose Day is all about (more information is available at www.rednoseday.com/earlyyears). Explain that you want them to have some fun while raising money to make a difference to people who need help in this country and in Africa.
In order to celebrate Red Nose Day and raise some money, invite the children to help plan and take part in a cookery show. It will not be like any other cookery show they have seen, as it will be held on Old Macdonald's farm on Red Nose Day and they will take on the roles of Old Macdonald and his animals!
Offer the children the chance to buy Red Noses at £1 each – you can order Red Noses using the Nose Deposit Scheme at www.rednoseday.com/schools If you are using the Red Noses, explain that as well as dressing up as the characters, the children will be wearing Red Noses.
Planning the event
Sing 'Old Macdonald Had a Farm', but add 'with a Red Nose' after each animal – for example:

Old Macdonald had a farm

Ee-I-Ee-I-O!

And on that farm he had a sheep (with a Red Nose)

Ee-I-Ee-I-O!

Invite the children to list and draw the animals that appear in the song. Let them be as creative as they like in their choice of animals. Then list the other characters needed to make the cookery show a success, such as:
TV chefs – Old Macdonald, his wife Mrs Macdonald, perhaps with help from one or more of their children, grandparents, neighbours or a visiting vet – remember it is a fun show!
Two farm workers – in charge of keeping the animals in the audience in order.
Two camera operators – using real or pretend cameras throughout the programme.
Cookery show host – an adult would need to assume this role with younger children to keep things moving, but older children could take on the role.
Two make-up artists – to come on stage and pretend to dab powder on the chefs' faces before and during the show.
Studio audience – made up of children dressed as Old Macdonald's farm animals.
Setting the scene
In the 'studio', arrange two or three tables in a line to create the cooking area. Place cooking utensils and ingredients on the tables. Opposite this, place sufficient chairs in rows to accommodate the audience. Number the chairs and make numbered 'show' tickets to give to the audience. Place real or pretend cameras around, ready for filming.
Planning the performance
Watch short excerpts from TV cookery shows and talk about what happens, who explains what is happening, if the audience is included, and so on. Make a simple list of the order of events for your show, such as:
Animals find their seats.
Farm workers check the animals are in the right seats and look after them.
Camera operators get ready.
Make-up artists attend to the chefs.
Cookery show host welcomes the audience and all sing 'Old Macdonald Had a Farm'. Host introduces Old Macdonald and the rest of the chefs.
Old Macdonald tells the audience what they will be making. The chefs talk through the recipes as they are making the food.
Whenever an animal is mentioned, the audience sings the appropriate verse from the song (not forgetting the 'red nose' addition).
The host asks the audience for their comments or questions.
After a break, the audience returns and tastes the biscuits. Children could take turns telling jokes to each other while the biscuits are baking. (Older children can help to write a simple script to start off the show.)
Wear Something Funny
Old Macdonald, his family, the farm workers, the show host and the camera operators can all dress in jeans, jumpers and wellington boots.
The chefs will need to wear aprons and make sure their hands are properly washed before cooking. Invite the children to make chefs' hats with Red Nose Day logos stuck to the front. See the instructions for on making chefs' hats; the Red Nose Day logos can be downloaded from www.rednoseday.com
The make-up artists can wear casual clothes, brightly coloured fun wigs and carry big boxes labelled 'Make up', containing giant-sized powder puffs.
The studio audience should dress as farm animals. If you do not already have a stock of animal costumes, or willing adults to make them, then suggest the children wear trousers or leggings and jumpers in an appropriate colour for their chosen animal. Print out animal faces below onto card and feed through a strip of elastic.
Bake something funny
Work with the chefs to make animal-shaped biscuits – all with red noses! See the recipe and step-by-step instructions for the chefs in the 'Animal biscuits' section below (also available as a photographic step-by-step guide). Don't forget to enjoy the show… and the biscuits!
Health and safety
Make sure the cookery area is appropriate for food preparation.
Check that the children do not have particular dietary requirements before tasting biscuits.
Keep the children well away from the hot oven and baking trays.
Animal biscuits
Make sure the table and your hands are very clean.
You will need: 150g oats; 100g caster sugar; 75g butter; 150g self-raising flour; 100ml milk; pinch of salt (optional); writing icing; glacé cherries.
Showcase!
Show off your schools' talent! Your children can make all kinds of creative bits and bobs – from photos and films (or footage of cookery shows!) to drawings and designs. Upload them easily to the exclusive Red Nose Day 'Showcase' creative uploader at www.rednoseday.com/schools
Order your kit!
To help you and your school on your way this Red Nose Day, you can order a fantastic kit bursting with ready-to-use curriculum-based resources and inspirational fundraising ideas that will make your life easy peasy! Order online at www.rednoseday.com/schools
What to do
Weigh and measure the ingredients.
Rub the butter, sugar, oats and flour between your fingers until the mixture looks like breadcrumbs.
Mix in the milk to make a stiff dough.
Knead the dough on a floured board.
Roll out the dough to about 0.5cm thick.
Use animal-shaped cutters to make biscuits.
Place the biscuits onto a greased baking tin.
Ask an adult to put them in the oven at 180°C/350°F/Gas Mark 4. Take them out after ten to 15 minutes or when they are a pale golden colour.
When the biscuits are cold, use writing icing to draw in the animals' eyes and stick on red noses made from pieces of glace cherry.
Enjoy eating your animal biscuits.
General fundraising ideas for the year
Oh I do like to be beside the seaside!
Let the children come into school in beachwear. Each teacher should plan a simple indoor or outdoor activity related to the seaside that will last approximately half an hour. Every half hour, let each class and an adult helper move on to the next classroom and a new activity. Teachers should stay where they are and repeat the activity with each change of class. Activities could include making flags for sandcastles, singing seaside songs, drawing in the sand, listening to stories about the seaside, eating ice creams, or playing beach games.
Midnight feast
Invite the children to come to school in pyjamas and bring a book from home. Prepare the feast in the morning. In the afternoon, dim the lights and gather together on blankets and cushions, reading and listening to stories and eating the feast.
Basket raffle
Ask for donations to fill one or more baskets on a particular theme, such as 'fresh fruit' or 'bath time'. Fill the basket, wrap in cling film and hold a raffle.
Breakfast meetings
Start the day with breakfast on a theme, for instance:
Breakfast with the three bears – porridge with a choice of toppings such as sultanas, brown sugar, honey or fresh fruit.
Breakfast with Red Riding Hood – what was in that basket?
French breakfast – French sticks, butter, jams and croissants.
Are you Doing Something Funny for Red Nose Day? Then tell us about it here.