Fee fi fo fum… let children move the keyhole to spot an Englishman!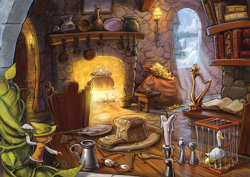 This fantastic interactive resource is best viewed full screen on an interactive whiteboard. Children can move the keyhole around the scene to reveal different sections of the picture. By examining what they see through the keyhole, children will build up a picture of the room and its owner, via the different objects and details. Also online are four accompanying activity sheets (available below), containing lots of creative ideas and games to extend the theme. And don't miss the A2 version of this poster, also available here!
Talking points
Apt child
They say you can learn a lot about people from the books that they read. Hmm… is this someone you would want to have over for dinner?
Castle in the sky
Our feet haven't touched the ground since we climbed the beanstalk. This castle really is one sky-high property. Let's check out the view…
Pitch perfect
Don't be played for a fool – there could be more to this mysterious harp than meets the ear. Handle with care unless you want a private audience with the house owner.
Special delivery
A giant goose that lays golden eggs? Now, there's a mystery to crack! Her cage doesn't look very homely – I wonder what would happen if we set the goose loose…
All that glitters…
Money can't buy you happiness, but anyone who can carry that heavy sack down the beanstalk is welcome to give it a go!
Big appetite
At first glance, this loaf looks positively scrumptious – but can we be sure exactly what it's made out of? The truth might be somewhat hard to swallow!
Come dine with me
Something's cooking – but is anyone brave enough to take the taste test? It could be soup, maybe even a magical potion… or more likely – the last house guest.
Beanstalk burglar
He's small but he has big ambitions… and all that sparkling gold could just be the answer to his poor mother's problems. (Yes, even fairyland is feeling the credit crunch!)
Subscribers can access some very amusing 'Jack and the Beans Talk' interactive and audio resources here.