As a World Book Day treat, Korky Paul reveals how he came to illustrate the Winnie the Witch books, and offers a few tips for the next generation of artists…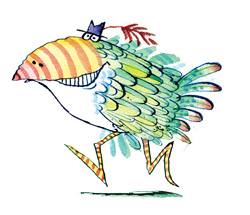 My big break in publishing came when my younger brother, Donald, worked for Oxford University Press (OUP). He wrangled a meeting for me with the then children's books editor, Ron Heapy. Ron looked at my portfolio, photocopied a selection of illustrations and said, 'We'll put these on file,' followed by the usual 'don't phone us, we'll phone…'
As I slunk out, feeling a little depressed, Ron handed me a manuscript. 'Do me three drawings. It's an A4 format, paperback, staple bound and part of an Oxford reading programme. It's about a witch who lives in a black house with a black cat. Written by an Australian school teacher called Valerie Thomas.'
A few weeks later I returned to OUP with three full-colour illustrations in a large picture book format. 'That's not what I asked for!' Ron said.
'I know, but it's a great story,' I replied. 'Pity to publish it as an A4 staple bound…'
A year later…
Thousands of miles away in a suburban primary school in Melbourne, Australia, Miss Thomas stood in front of her class of wriggling seven year-olds and held up a picture book.
'Look children,' she proudly announced. 'Here is my book that's just been published far away in England, and it's called Winnie the Witch – and it has been illustrated by a man called Korky Paul. He drew the pict…'
Suddenly, little Gabriella Mina (aged seven and three quarters) put up her hand and waved frantically.
'Gabriella?'
'My daddy went to school with Korky Paul…'
Eighteen months later…
I was sitting with Paul Teanby, Sales Manager at OUP, staring out of the vast windows of The Royal York Hotel. I became aware of a gentle nudging at my arm, then an urgent voice whispered, 'Go on, get up…' and Paul gave me a shove. I leapt up bewildered, and edged towards the front of the banqueting hall, through crowds of parents and children seated around the beautifully laid tables. Winnie the Witch had just won the Children's Book Award hosted by the Federation of Children's Book Groups (FCBG).
Korky Paul's top tips to illustration
Draw the outlines in a dark or strong colour.
Yellow is a great colour for colouring in shapes and backgrounds but not good for outlines.
Put light colours against dark colours.
Put busy textures against flat colours.
Use bold, simple shapes against complex detailed areas.
Throw away pencils and rubbers.
Do try and break all these rules.
At the end of the session, display the illustrations and conduct a review and discussion.
Korky Paul's imagination workshops
Here are three drawing activities to encourage our fledging illustrators to create their own imaginative drawings and to feel proud of what they have achieved. I want to stretch their creative brain cells and show drawing is fun – and more importantly, that anyone can do it.
Drawing something fishy
The Fish Who Could Wish written by John Bush is a great source of inspiration for drawing fishes. John wrote a little poem to help inspire you:

Fish, Fish such simple things -

Head, tail, body, fins.

And yet this recipe comprises

A zillion colours, shapes and sizes.

Look carefully through The Fish Who Could Wish (aka Hamish) and see the many different shapes, sizes and colours of Hamish's friends. Get ideas by looking at fishes I have illustrated (see activity sheets, below) – encourage the children to use their imaginations!
Drawing Winnie's magical monsters
You can apply John's rhyme to drawing monsters: Monsters, monsters, such scary things…
Look carefully through any Winnie picture book and, lurking somewhere in the background, you will see one of many magical monsters that live in Winnie's black stately home. Get ideas by looking at the monsters I have illustrated – let imaginations run wild!
Drawing the 'BIG O' in KOrky
Print the kOrky signature on white or coloured paper. Get ideas by looking at the drawings I have illustrated using the 'BIG 0' in my signature. Encourage the children to use lots of colours and draw something in the 'BIG O'.
Winnie to the Rescue!
Winnie to the Rescue! is part of a two-in-one book, published especially for World Book Day. The book includes two crazily-funny stories featuring everyone's favourite witch. By flipping the book over, children can read Yuck's Rotten Joke by Matt and Dave. The book can be purchased using the WBD £1 Book Tokens. For more information visit www.worldbookday.com