This interactive game is based around the vowel graphemes children need to know in Phase 3 of the Letters and Sounds document. It will help support those children who are struggling with their spelling and will really encourage them to develop their knowledge of spelling patterns and to use their phoneme knowledge.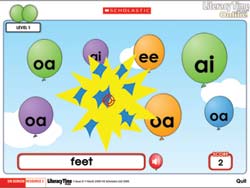 Playing the game
This is a game for up to six players. You can either choose the appropriate level for the child to play or let them work through the levels from 1 to 3.
To begin, click on the start button. You will then see words begin to appear at the bottom of the screen. The digraphs from the middle of each word will be missing.
Floating above the word are balloons containing vowel graphemes.
Level 1 has words based around the vowel graphemes ao, ai and ee. Level 2 is slightly more difficult with five vowel graphemes to choose from – oa, ai, ee, oi and ar. Finally, level 3 has seven vowel graphemes to choose from – oa, ai, ee, oi, ar, igh and oo.
Previous learning
The children need to know the spelling patterns for the vowel graphemes.
Preparation
Before playing the game explain the rules of the game to the children. Ensure that the children know the spelling pattern for each of the digraphs.
To play, children have to identify which vowel grapheme is missing from the word. They should click the speaker button to hear the word, then pop the appropriate balloon by clicking on it.
If they are correct, the word is displayed in full and then the next word will appear. Players keep popping balloons until they get one wrong.
Key learning outcomes:
To segment sounds into their constituent phonemes in order to spell them correctly;
To spell with increasing accuracy and confidence, drawing on word recognition and knowledge of word structure, and spelling patterns.
If the wrong vowel grapheme has been clicked on, play passes to the next player.
When all the words of one level have been completed, children are given the chance to try the next level.
The game continues until all the words have been completed.
Using the activity sheet
Make a copy of the activity sheet below for each player. Children can use it to keep a note of the correct words they make. If they write the words down correctly from level 1, it will help them with some of the words in levels 2 and 3.
Extending the game
Ask the children to make up their own 'balloon' words with the vowel graphemes oa, ai, ee, oi, ar, igh and oo.