Nearly half a million schoolchildren have had the 'Antony Lishak Experience' – find out from the man himself why an author visit can be a life-changing, unforgettable event.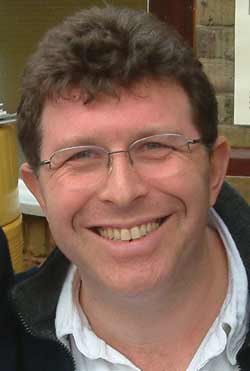 My mum reckons it all started when I was six, early one Saturday morning. I was really thirsty and about to go downstairs when I heard the first of my father's violin children arrive and dived back into bed. Don't get me wrong, I love the violin; both my parents were professionals. But I could never stand the 'vile din' played first thing on a Saturday morning by a tone-deaf child, scratching out their own rendition of that popular classic, 'Strangling a Cat in Three Movements'. It was then that I penned my first earning words:
'Dear Mum, I'm dying of thirst up here, I need a glass of milk. xxx'
Rusty, our musically astute Labrador, had escaped upstairs to join me. He was a bright creature who would obediently go to any room in the house I'd tell him to. (I remember once searching his stomach for a zip, convinced he was really a small man in a dog costume.)
I slipped my note under his collar and whispered, 'Go see mummy, in the kitchen.' Three minutes later I was sitting up in bed holding my first glass of royalties.
The power of the pen
Ever since, I have been excited by the boundless potential in those lines, dots and scribbles that we all call words. It's a fascination I try to convey when I visit a school. "The one with the pen has the power… when someone reads your work they are entering your world of words and it's your duty to change them in some way… make them happy, sad, anxious, disgusted… anything except bored!"
I've worked in primary education for almost 30 years, initially as a teacher in Haringey and Barnet (having taught every age group from nursery to Year 6). Creating and sharing stories, both written and verbal, was always at the core of my classroom – EVERYONE in the room saw themselves as authors; I would encourage the children to critically comment on my work (and each other's) in the same way I would theirs.
When my first book (Coming Round) was published in 1988, my class were as thrilled as me. I remember proudly putting a copy of it alongside the child-made books in our class library and proclaiming the words I still repeat on a daily basis: 'We are all authors, the only difference is that I am bigger than you!'
I left full-time teaching in 1996 and now spend most of my life working in schools striving to inspire children (and occasionally teachers) to see themselves as authors. I average about 150 schools a year: approaching half a million children have had the Lishak Experience. I absolutely love it – I seem to have found a way of merging the three things I'm any good at: teaching, writing and performing. (I've dabbled in stand-up comedy too!)
Face to face
Schools have been 'getting an author in' for years. Some authors recoil at the idea of meeting their audience face to face, but many more relish the chance of looking into the eyes that they hope will be scanning their words. There is so much that can be gained from such an event; the secret for the school is to decide exactly what they want from the event and liaise with the author well beforehand.
Old hands like me can offer an array of sessions, varying from tightly-focused writing workshops, with identified groups, to large, all-singing-and-dancing one-man-show presentations.
Whatever format is chosen, with the right preparation, a successful author visit can be a life-changing event. I get emails from children who say their love affair with words started on the day of my visit. Teachers regularly tell me that, as a result of my input, certain children have broken the shackles that previously held them back… that children thought to have gnat-sized attention spans sat spellbound all through my hour's presentation… that techniques and writing tips I demonstrated have affected their own teaching style… and, occasionally, teachers thank me for unleashing the author that had lain dormant in them.
Clickety-Clack, Something to Pack
This is a book that has proved very popular with infant children. It's based on the traditional 'I packed my bag' memory game and is very performable, being written in regular rhyming couplets that children instantly latch onto. Ian Penney's detailed illustrations make it delightful to share one-to-one, but I present it as a prop-led storytelling session, introducing actions to accompany the one train, two rabbits, three clocks, four hats, five kites, six jugs, seven balls, eight cars, nine cuddly toys and ten shells, as they make their way into a battered old suitcase. Actually, the runaway rabbits don't get packed: they scamper off to the last page where they tip up the suitcase!
You can download the complete storybook Clickety-Clack, Something to Pack in PowerPoint format here.
To arrange a visit from Antony or buy signed copies of Clickety-Clack, visit www.antonylishak.com or email Antony.
As a follow-up, I invite children to make their own 'counting suitcase', an activity that can be easily differentiated to suit all age groups and abilities. Each child starts with an A3-sized template of an empty suitcase and chooses their favourite things to pack in it. Reception children can draw their items – one of something, two of something else, etc. (Younger or special needs children can use ready-made, cut-out objects.) Year 1 are encouraged to write the numbers and words next to each set of items in their 'counting suitcase' – a good opportunity to encourage developmental writing. Year 2 can try describing the items they pack in an interesting way, while more able children could try using alliteration in their descriptions, or produce alliterative sentences – eg, Four friendly frogs feeding on flies. Brighter children could create a themed suitcase – eg, one goal, two football boots, three trophies, four corner flags, five red cards.
Sense of audience
It's important for children to have a sense of an audience – knowing from the outset that their work is going to be viewed by someone else provides a genuine purpose to the activity. Encourage them to make their drawings and descriptions as detailed and interesting as possible so that other people can enjoy their suitcase. You may want to get them to perform their suitcase to the class or a small group, creating appropriate actions and inviting their audience to join in. Some teachers have taken the suitcase one step further and have created a classroom story suitcase, varying the contents on a regular basis to fit in with either a current topic or a specific letter sound.