A fun, interactive mathematical version of 'Call my bluff' in which children have to choose the correct definition for 30 maths words.
Playing this game will encourage children to work together in groups, discussing their ideas and explaining their opinions. It will also improve their dictionary skills and consolidate their mathematical knowledge.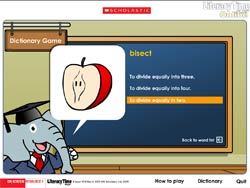 Before playing
Have a maths word race in which children work in teams, are given a time limit, and must list as many words relating to maths as they can.
Can teams explain what their maths words mean? Why is it useful to know these words and their meanings?
Playing the game
Introduce the online resource, starting by reading 'How to play'. What kind of writing is this page? How do they know? Highlight imperative verbs and discuss their role within this section of the text.
Return to the title. Is this whole text instructional? Discuss the kind of writing the rest of the resource might be, what kind of features they might expect to see and why more than one text type has been combined.
You can complete the game working in teams, pairs or groups. If in groups, encourage the children to take on different roles – eg, spokesperson, answer checker, reader. If in pairs, give the children specific speaking and listening skills to work on.
Model how to check answers.
Previous learning
Children should be able to: take different roles in groups; use knowledge of different organisational features of texts to find information effectively; use knowledge of word structures and origins to develop their understanding of word meanings.
Key learning outcomes:
To present a spoken argument, sequencing points logically, defending views with evidence and using persuasive language;
To understand different ways to take the lead and support others in groups;
To compare different information texts and identify how they are structured;
To distinguish between everyday use of words and their subject-specific use.
Responding
After playing, discuss opinions of the text. Was it easy to use? What kind of skills did they have to use to navigate the text and to find the answers?
Which words were easy/unfamiliar? How did they combat problems? Were there any clues in the way words were spelled that helped them?
How is the dictionary set out? Is it random or does it follow a pattern?
Look at the abbreviations (eg, n, prep, adj). What do they mean and how do they help the reader?
Look at the way the writer has given possible answer choices. What kind of tactics did they use to add some challenge while giving clues? Were there any parts of the word that helped the writer create their clues?
Group and independent activities
Use the activity sheet below. Work in pairs or small groups to add more words, plus possible answers, to the game. Some children may want to start by devising alternative answers for words already in the game. Encourage them to be imaginative, playful and challenging when devising possible answers.
Work in teams to make a whole-class maths dictionary that will help you to revise for tests or remember specific maths skills.
Create new versions of the game for other topics or subjects you are studying.
Investigate number prefixes (eg, bi-, quad-, tri-). Try adding them to a variety of words. Mix some real words into made-up words and use dictionaries to find out which are real and which aren't.
Discuss how some mathematical words can be used in other contexts. Create sentences using the words differently.
Investigate the origins of some of the words in the game and add these to your maths dictionaries.
Learn about famous mathematicians of the past, such as Descartes, Newton, Einstein or Pascal.
Further reading
This is the fourth Literacy Time PLUS interactive dictionary game for Key Stage 2. See Issues 54 (May 08) and 57 (Nov 08) for Ages 9 to 11 for games on an Olympics and Space theme, and Issue 56 (Nov 07) for Ages 7 to 9 for a game exploring Ancient Egyptian topic words.
Download a demo of the Literacy Time PLUS Olympic Dictionary Game.
Plenary
Share the groups' new words and possible definitions. Can the others guess or work out the correct answers?
Check how much the children have remembered by giving them a definition and challenging them to tell you the word that accompanies it.
Ask the children to give you sentences in which they use the words in subject-specific and non-specific ways. Encourage the class to explain the differences in the way the words have been used.