Help children to learn the true value of pennies and pounds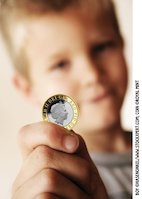 You will need:
Coins and bank notes (or images) from different countries; interactive whiteboard and the song 'Money, Money, Money' by Abba to welcome the children to the assembly.
Introduction
Tell the children that today's assembly is about a complicated subject – money – what it is, what it's used for and how it needs to be shared out more fairly.
Main assembly
Show the children a selection of currency notes. Ask them where they think each one could be used, for example the euro, US dollar, rouble, yen, and so on. Finish by showing the children both English and Scottish bank notes.
Ask the children how an American visitor, with just dollars, would be able to use their money in Britain (by exchanging it). Explain that, like the American tourist, when we travel to other countries we have to exchange our money into that country's currency at a bank, post office or bureau de change.
Try to explain that sometimes the value of our money goes up and down. Using the value of the euro against the pound might help. For example, in May 2000, £1 equalled E1.7, whereas in December 2008, £1 equalled E1.1.
Explain that most adults earn their money, but sometimes we are given it as prizes, gifts, inheritance, benefits, and so on. We can choose to spend it, save it or share it with other people such as charities. Ask what the children would do if they won the lottery.
Invite the children to suggest what they think their parents spend money on – fuel, utilities, food, rent and mortgage, and so on. Elicit how we all need food to eat, somewhere to live and heat to keep us warm, and how lucky we are that we have access to these things.
Talk about how money helps our world 'work'. Discuss how we all know that our world can be kind, honest and fair, but it can also be unkind and unfair. We need to make our money do the right thing because we are not all rich. A really sad fact is that nearly half the world is much poorer than us. Suggest that whatever our personal circumstances, we should always think about people who are less well off than ourselves. (See our Red Nose Day ideas for this year's theme.)
Ask the children whether they would prefer to receive a monthly salary of £10,000 for six months, or alternatively, to receive, for one month only, 1p on the first day of the month, 2p on the second day, 4p on the third day – doubling the amount each day until the end of a 30-day month. If you have time, work out the amounts each choice would bring them. Those who picked the one-month payment will be pleased to know that they would receive millions of pounds worth of spending money!
Closing thought or prayer
Money can be used to help us live pleasant lives and to buy good food and heat our houses. But, some people have very little money, some have none at all and others might need money to help them find a home or overcome a serious illness. Let's remember that we can all choose to spend our money, but we can also choose to share some of it with others.