Author of the delightful Tumtum and Nutmeg series, Emily Bearn, reviews a selection of illustrated children's books…

Emily Bearn was born in London, and has been a journalist since the age of 20 when she joined the staff of Harpers & Queen magazine. She then worked on The Times and the Sunday Telegraph, before writing her first children's book, Tumtum and Nutmeg (Egmont, £5.99 PB), about two married mice living in a stately home within a cottage broom cupboard. Emily lives in London with her daughter, Freya.

The third Tumtum and Nutmeg book, The Pirate's Treasure, will be published in April '09.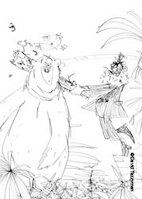 Reviewer's choice: Mr Gum and the Dancing Bear by Andy Stanton; illustrated by David Tazzyman (Egmont, £5.99 PB)
This is the fifth book in the Mr Gum series, and it certainly won't disappoint Andy Stanton's well-deserved legion of fans. In a wonderfully-ludicrous plot, Mr Gum devises a dastardly plan to make money out of Padlock – a bear who is as tall as 40 hamsters, weighs as much as 19,000 grapes and is homesick for the Kingdom of the Beasts. Can Padlock's friend, Polly, outwit the villainous Mr Gum, and return Padlock home before he dies of a broken heart? David Tazzyman's beautifully-eccentric pen and ink drawings complement a gloriously-funny plot.
Suitable for: boys; girls; 7-9; 9-11; reluctant readers
Read some fantastic literacy-based classroom activities based on another Mr Gum book — Mr Gum and the Goblins (featured in the Jan '08 issue of Junior Ed PLUS).
Guild of Specialists: Operation Storm City by Joshua Mowll (Walker, £12.99 HB)
This is the third novel in the Guild of Specialists trilogy, following the adventures of Rebecca and Douglas MacKenzie as they search to find their parents who went missing on an expedition to the Sinkiang Desert in China. In an instalment every bit as thrilling as the last, the children return to the family home in Lucknow, India, from where they embark on a perilous journey across the Himalayas. The illustrations are printed as though from Douglas' sketch book – a feature that further thickens the drama.
Suitable for: boys; 9-11; more able readers

Bambert's Book of Missing Stories by Reinhardt Jung; translated by Anthea Bell; illustrated by Emma Chichester Clark (Egmont, £9.99 HB)
This is an enchanting book in which a lonely author, living in an attic, decides to send his 11 stories out into the world, attached to paper balloons, to find their true setting. The eleventh story is blank, and Bambert hopes that it will write itself. This edition is translated from the German story by Anthea Bell, and stunningly illustrated by Emma Chichester Clark, a former child of Quentin Blake. Emma's haunting drawings will engross parents and children alike. A true gem.
Suitable for: boys; girls; 9-11

Peter the Penguin Pioneer by Daren King; illustrated by David Roberts (Quercus, £9.99 HB)
This is a charming and deliciously-silly book about a handsome penguin explorer and his co-pilot, Punky, 'the only penguin with tufty ear feathers'. As they attempt to drive some impostors from their beloved ice-skating rink, they embark on a wonderfully imaginative adventure involving flying fish, snowmen and bolshy Polar Bears. Children will love the beautiful, old-fashioned illustrations. A wonderful book for reading aloud.
Suitable for: boys; girls; 7-9; reading aloud; reluctant readers

How the Whale Became and other stories by Ted Hughes; illustrated by Jackie Morris (Frances Lincoln, £9.99 PB)
First published in 1963, this book by the then Poet Laureate is now regarded as a classic of its time, and is reproduced in this exquisite edition, illustrated by Jackie Morris. It includes 11 stories, all packed with enchantment – the vain Hare dashing from hill to hill hoping to win the heart of the Moon; the jewel-like Bee created from the tears of a lonely demon; the donkey who wanted to be a lionocerangoutangading! Jackie Morris' illustrations evoke the strange magic of Hughes' world.
Suitable for: boys; girls; 9-11
Visit our giveaways section to win all of the books featured in these reviews!

Diana and her Rhinoceros by Edward Ardizzone (Frances Lincoln, £11.99 HB)
First published in 1964, this is a delightfully-quirky story. Diana Effingham-Jones is far too sensible to panic when an escaped rhinoceros wanders into her sitting-room.
Suitable for: boys; girls; 7-9; reading aloud

Sylvie and the Songman by Tim Binding; illustrated by Angela Barrett (David Fickling, £12.99 HB)
Sylvie returns home to find her father has been kidnapped. Later, her house is visited by a terrifying, half-human apparition and Sylvie finds herself battling evil powers. A gripping story with suitably eerie illustrations.
Suitable for: boys; girls; 9-11; more able readers
Shakespeare's Stories retold by Beverley Birch; illustrated by James Mayhew (Hodder, £9.99 PB)
A lyrical retelling of Shakespeare plays, preserving the poetry of the original texts, while creating a swift narrative pace that will draw children in. With delightful artwork by James Mayhew, this is a wonderful introduction to Shakespeare's work.
Suitable for: boys; girls; 9-11; more able readers

Singing to the Sun: A Fairy Tale by Vivian French; illustrated by Jackie Morris (Egmont, £10.99 HB)
A beautiful story about a neglected boy whose aristocratic parents do not believe in love, only in wealth and power. The mysterious atmosphere is encapsulated by the pale, dream-like illustrations.
Suitable for: boys; girls; 7-9; 9-11

A Nod From Nelson by Simon Weston; illustrated by Jac Jones (Pont, £7.99 HB)
A delightful tale of a carthorse forced out of retirement to prevent an oil spill from polluting a pond. Children will love the comic illustrations of Nelson and his friends.
Suitable for: boys; girls; 7-9