Find out who has won our World Book Day competition and take another look at our selection of 'Great Reads' to share.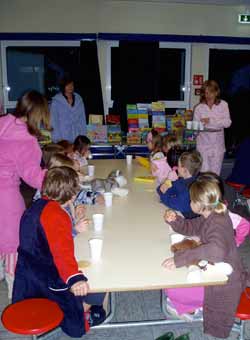 Children at St Andrew's school share 'Books for Bedtime'
In our January issues, we recommended some great books to share in your classroom on World Book Day – and for each book chosen, we suggested some literacy-based activities for your children to enjoy.
Five books were picked for each age group:
and
and we offered readers the chance to win a set of these books by sending us details of how they would be celebrating World Book Day in their school.
The winners are…
Gareth Jones, of St Sampson's Infant School in Cricklade, who will win the five books recommended for ages 5 to 7.
As part of the World Book Day celebrations in his school, everyone will be dressing up. All the children and members of staff are going to be coming to school as their favourite book characters – Mr Jones will be dressing up as Percy the Park Keeper! Each class will be spending the day doing activities based around the book that they have choosen. Using the activity ideas published in the January issue of Literacy Time PLUS Ages 5 to 7, Mr Jones' Year 1 class will be doing activities around the book The Bog Baby by Jeanne Willis.
Sarah Parkin and Karen Favis, teachers at St Andrew's Primary School on JHQ, Rheindahlen in Germany, who will win the five books recommended for ages 7 to 9.
Karen's idea was to hold a Books for Bedtime in which children are invited back to school in their pyjamas to share stories in a quiet, relaxed atmosphere, followed by cookies and hot chocolate in the hall. Parents are also invited to stay.
"We have children from all over the world in our schools and so share a wealth of cultures," explained Sarah. "This successful night has become an annual event in the school."
Amanda Gibb, of Alderman Cogan's CE Primary School in Hull, who will win the five books recommended for ages 9 to 11.
Amanda told us: "We celebrate this event every year and try to do something slightly different to keep the children (and staff!) interested in it!"
This year the children will be:
wearing fancy dress as a book character or bringing a prop to represent a character – eg, tin of 'worms' for Mrs Twit;
inviting older classes to read to younger classes and, as part of this, Year 6 will be going to a nearby nursery to read there;
holding a book fair;
giving each child a £1 book token;
asking the children to bring in their favourite books to talk about with their own classes;
holding an assembly where teachers will talk about ther favourite books;
hopefully inviting an author/poet in to talk in an assembly or with a year group;
creating a book in literacy lessons or building work during the week about a book.
One class is also planning to create a stop-frame animation to illustrate a section from a book being read.