Many children learn to explore and understand the world around them through schemas and schema play, as Sally Featherstone explains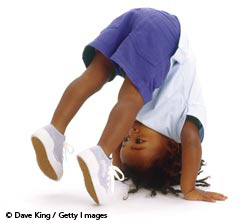 What are schemas?
Schemas are repeated behaviours that babies and young children use to explore and understand the world. Examples of schema behaviour might be:
a baby continuously dropping objects over the side of a high chair and watching them fall to the floor
a toddler repeatedly bringing objects and placing them in an adult's lap, or loading up a barrow or bucket with objects, then tipping them out again
a child who always climbs into an empty box, builds walls with big bricks and makes walls and fields for cars or small-world animals
a child who is interested in everything that turns – taps, doorknobs, keys, locks and wind-up toys.
These are all behaviours that can be described as schemas, and during your observations of the children in your care you may have seen some or all of these types.
Some children will show you clear schemas, which they become involved in over days and sometimes months. Other children seem to need this repeated play less often, but some will never be observed in this sort of play. Of course, this does not mean they never do it, just that it is never observed!
The theory behind schema play
Researchers and child development experts who have explored schema play have suggested the following reasons for the repetition that is an essential feature of schema play.
Piaget (1896-1980), whose work on schemas is still influential, believed that as active learners children need to construct and reconstruct their experiences through play and action, so they can 'fix' their learning.
Vygotsky (1896-1934) wrote '... speech and action are part of the same complex psychological function, directed towards the solution of a problem in hand.'
Both Piaget and Vygotsky believed that children learn through practice and play, and that repetition is one way that children explore, refine and make sense of what they are experiencing.
Why is schema play important?
The young brain makes thousands of links between cells every hour, as the child experiences the world around them. At first, these links are thin and tenuous – it is practice and repetition that makes them strong and permanent.
Repeating and revisiting the same activity, the same action, the same movement in many different places, times and with different resources turns fragile neural pathways into permanent links in children's brains, transforming activity into experience, and experience into understanding.
Schemas in the curriculum
The research on schemas and schema play now has a fundamental place in National Guidance on care and education for young children. The Early Years Foundation Stage (EYFS) includes a CD-ROM containing the following criteria for effective play.
Play and Exploration is important because it offers opportunities for:
making choices and decisions
using one's own ideas and imagination
experimenting
trying out new behaviours and practising old ones
practising skills and learning new ones
exercising, developing and coordinating body, mind and brain
adapting or transforming knowledge, attitudes and skills.
Schemas in your setting
Schemas are evident in babies and very young children when they continuously mouth objects, bang toys, scrunch paper and so on, repeating and confirming what they know and can do. Such schemas can best be supported by offering a wide range of resources, ideally in a treasure basket, which changes according to the interests of the individual baby.
The schemas you may have observed in older children's play in your setting are probably the simple schemas, of which the following are some of the most familiar:
Trajectory (diagonal/vertical/horizontal) – dropping things from their cot; making arcs in spilt food with fingers or hands; 'catching' the running water in the bathroom; climbing up and jumping off things; and kicking or throwing balls.
Orientation (upside down, sideways, above, under) – lying on the floor or under the table; bending to look between their legs; and hanging upside down from a climbing frame.
Positioning (closely allied to orientation) – balancing things on their head; preferring their custard next to their pudding not over it; tidying shelves; and lining up toy vehicles.
Connection – joining train trucks or trailers; sticking masking tape from a table to a chair; and connecting and disconnecting construction toy pieces without building anything specific.
Rotation – watching the spinning washing machine; loving anything with wheels; rolling down a hill; and enjoying spinning round or being swung around.
*Enclosure/containing – filling and emptying containers of all kinds; climbing into large cartons; and building 'cages' or fields with blocks.
Enveloping – covering themselves, dolls and soft toys in fabrics; wrapping things with tape or paper; and making parcels or presents where the wrapping is more important than the object being wrapped.
Transporting – carrying objects and toys in their hands, containers or in wheeled toys.
Transforming – adding juice to their mashed potato or sand to the water tray; and adding colours to cornflour or making dough.
Useful resources
Learning through Play: Babies, Toddlers and the Foundation Years by Tina Bruce (Hodder and Stoughton).
Again! Again! by Stella Louis et al (Featherstone Education/A&C Black).
Thinking Children: Learning about Schemas by Anne Meade and Pam Cubey (Open University Press).
Thought and Language by Vygotsky (Cambridge Mass:

MIT

Press).
Of course, some children will be exploring more than one, or even a cluster of schemas at any one time. Anne Meade explored schema clusters in detail in Thinking Children (see 'Useful resources').
Understanding the role of schemas
The result of improved understanding of the role of schemas has influenced guidance on child-initiated learning in the EYFS, where its provision is a major theme. At last, we have made the link – play enables children to make sense of the world and of their experiences, and child-initiated, repeated, individual play through schemas is one of the ways this happens.
It is the role of practitioners to provide an environment where schemas are valued and can flourish.