In the first of our new history series 'Who lived in a house like this?', we take you inside a typical Roman villa in Britain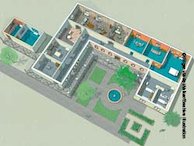 Our fantastically illustrated, 3D Interactive resource, 'Who lived in a house like this?' opens the roof on who lived in the house during Roman Britain.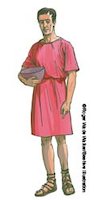 Flavius, the villa's owner, introduces children to his home and encourages them to take a look around. As they 'remove' the roof, they can 'zoom' in on each room to see it up close and read more about what went on inside. From the food stored in the larder and cooked in the kitchen, to the separate bathhouse, children will learn more about how the Romans lived.
As well as the detailed 3D view, there is also a floorplan of the villa, also available as a free activity sheet.
Linked activities — in Junior Education PLUS March '09.
Don't miss out on the series — subscribe now!
If you aren't already a subscriber, visit our subscription information page to discover the benefits.

And there's more. Don't miss out on….
April — take a tour around a Viking longhouse
May — step inside a medieval castle
June — explore a Tudor mansion
July — see inside a Victorian townhouse
August — take a tour around a 1960s semi-detached house