Laurence Anholt celebrates 60 years of the Universal Declaration of Human Rights with these inspirational yet accessible ideas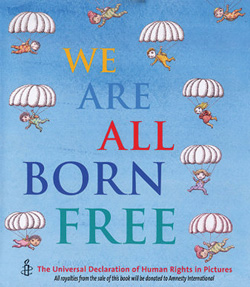 We Are All Born Free (Francis Lincoln, ISBN 9781845076504) could be my favourite picture book of the last five years. This is a BIG book about a BIG subject, which is accessible to very young children. (I can even think of a few grown-ups that could use it too!)
To celebrate 60 years of the Universal Declaration of Human Rights, some bright spark at Amnesty International came up with the idea of inviting 30 international artists to illustrate the 30 Articles for children. The result is a feisty, provocative and joyous celebration of freedom, peace and justice.
If I could lay down the law for a minute, I would say this book should be obligatory in every young library.
Synopsis
Each page of the book carries a simplified version of one of the Articles. For example, Article 1 announces: 'We are all born free and equal. We all have our own thoughts and ideas. We should all be treated in the same way'. Whether you are five or 50 (like me), those are the truest words you will ever hear.
Scattered around the text is a smorgasbord of artwork cooked up by creative types like Axel Scheffler (The Gruffalo), Satoshi Kitamura, John Burningham, Jane Ray and Peter Sis, who designed the striking cover. Indeed, the design and quality of the book is outstanding, and in the spirit of freedom, all royalties go to Amnesty International.
There is also plenty of supporting material online. Actor Julian Rhind-Tutt and a host of stars have narrated an excellent animated film based on We Are All Born Free, which will be shown in cinema screens around the country. Take a sneaky peak and here.
All in all, this book is creating a fantastic splash around the world so, as Cat Stevens might have said, 'come and join the peace train'!
My family story
I contributed an illustration to We Are All Born Free, as did my wife, Catherine (see illustrations above). We were delighted to get involved because we believe so strongly in these fundamental principles.
My father came from a Dutch Jewish family, originally from Persia (now Iran). He saw the atrocities of war firsthand as a Sergeant in British Intelligence. He lost between 50 and 100 of his relatives in concentration camps. Inevitably, the ripples of this experience lapped through my own childhood.
Catherine comes from a big Irish Catholic family, so our children (like so many) have a rich cultural mix flowing through their veins. I used to encourage them to feel positive about their diverse roots by talking about the difference between paint and blood. When you mix lots of colours together, paint becomes muddy and grey, but blood has the opposite effect – the greater the mix, the brighter it becomes.
I believe that it is essential to raise children as informed and active citizens, dedicated to tolerance and justice. We Are All Born Free will help to do that without preaching and without creating anxiety.
Making the rules
Let the children pretend they are a good ruler or a bad ruler. What laws would they make? What sort of world would their rules create? Invite them to design a scroll of their commandments and read them out to the rest of the class.
Blind justice
Encourage the children to think about prejudice. Let them take turns to wear a blindfold while another child sits quietly in front of them. Can they guess who it is using only touch? Discuss that you cannot tell whether they are rich or poor, black or white, disabled or able-bodied.
Arty Articles
Ask the children to choose their favourite Article and to create their own illustration for it. Point out the way that many artists in We Are all Born Free have taken a sideways look at the subject – some have used animal characters to tackle difficult subjects. Many of the pictures are optimistic and happy. (The illustration below is of Article 6 – Everyone has the right to be protected by the law.) Talk together about how we should celebrate the freedom we have in our lives.
Right on!
Do some research together to discover times or places where children had fewer rights. What kind of lives did/do they have? There were many times in history when young children had to work for a living, and there are plenty of places where they still do. Talk about why fairness is important.
Pause for thought
Choose one Article a day for 30 days. Just talk and think about it as a whole class.
Decent declarations
Sixty years ago, on 10 December 1948, the member nations of the UN signed the Universal Declaration of Human Rights.
Work together to find out how this came about and why it was so necessary. (Note: the We Are All Born Free film offers some explanations.)
Price of freedom
Ask the children what 'freedom' means. What would happen if there were no laws at all and people were free to do absolutely anything they wanted? Can the children think of ways in which our freedom takes away the freedom of others?
Who has the right?
Take time to think about what rights are, and list some of the rights that you have. Ask the children if everybody should have the same rights. Can anyone think of a right that adults have but children do not have? Can anyone think of a country where people have fewer rights? Have men and women always had the same rights?