International Primary Curriculum: The bear necessities
16 March 2009
Add to My Folder
and Louise Tett — Reception teacher
From teddy bears to grizzly bears, explore the world of animals using ideas from the International Primary Curriculum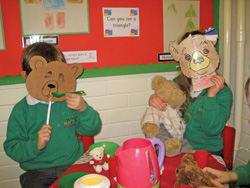 April is National Pet Month, designed to raise awareness of the importance of animal welfare. Many children do not have the opportunity to own a pet, so a teddy bear can be a good alternative. Reception teacher Louise Tett took advantage of this during her work on the Bears unit of the Early Years Programme for four and five-year-olds from the International Primary Curriculum (IPC).
Louise teaches at Fair Oak Infant School in Hampshire, where they have been working with the IPC for the past two years, aiming to bring a thematic, cross-curricular, skills-based, rigorous and internationally-minded learning approach to all their infants. Louise worked on the Bears theme for six weeks, linking to all the Early Years strands, plus numeracy and literacy wherever appropriate.
Bring your bear to school day
We started the unit with what IPC calls the Entry Point. This is a special event to get the children excited and engaged about the theme. We invited everyone to bring in a soft toy bear from home. During the day the bears went everywhere with us: to assembly, out to play, joining in with our learning, and to lunch.
At the beginning of the day we talked about taking responsibility for our bears throughout their day at school. This included why each of us should take care of our bear, our possessions and our pets each day, every day. The children liked taking on the parental role, being in charge and showing their bear what to do throughout the day. They demonstrated a real understanding of ownership and responsibility. The children also made 'I belong to…' labels to put around their bears' necks, and drew pictures of their bears.
What, how, when and where?
The next step in every IPC unit is the 'Knowledge Harvest'. We discussed everything that we already knew about bears and everything we would like to know about bears. The children named a few bears, such as the polar bear, but could not elaborate further. All the children were able to talk about a teddy bear at home. As we were talking, I created a large mindmap of their existing knowledge and showed the children how to make connections. I did this mostly with drawings and very simple words. For example, I drew a polar bear linked to the words 'white' and 'cold.'
At four and five years old, children find it difficult to express what they want to know about a subject. So the Knowledge Harvest requires some time teaching the children how to ask questions. I explained how the children could use words such as what, how, when and where to find out what they wanted to know about bears. This was a really empowering experience for the children because they felt like they were deciding what they wanted to learn, which immediately inspired them.
My bear travel diary
During our Entry Point day each child started their 'My bear travel diary'. This was a home-school diary that the children could use throughout the unit to record any activities they did with their bears. The children also enjoyed writing about their personal experiences with their bear, whether it was taking their bear to watch them at swimming lessons, to birthday parties, or visits to grandparents. Their enjoyment was evident in the quality and quantity of their writing, with many children writing much more than they normally would.
Where do bears come from?
This was a good activity for using atlases and developing international mindedness. We asked ourselves questions such as, Where do bears come from? What colour are they? What do they eat? We compared polar bears to grizzly bears, and explored picture atlases, bear books and the internet to answer our questions. The children really enjoyed finding out information for themselves and, having learned some very simple researching skills, many continued this exploratory learning at home.
Making porridge
Goldilocks and the Three Bears is a great story, linking to numeracy in lots of ways. We used the porridge theme to make and compare our own porridge. The children made the porridge, measuring the ingredients and following the instructions from the recipe. We flavoured one bowl of porridge with honey, one with sugar and one with salt, and then tasted all three. The children voted on their favourite flavour, and together we recorded this data in a table. It provided the opportunity to practise lots of maths skills, including measuring and recording information, and also helped to give real purpose to our numeracy work.
Sorting bears
Sorting bears is an excellent example of collaborative learning in pairs. I asked each pair of children to sort a number of pictures of bears into groups. I explained that they should discuss how to sort the bear pictures, whether by colour, size or material. I also explained that they needed to share their ideas and then work together to sort the bears into groups, seeing how many different groups they could make. For some pairs I had to teach by setting an example of how to share ideas; other children immediately understood.
It was really encouraging to see the children actively working together, listening to each other's ideas and responding together to achieve the goal.
Making music
This activity encouraged all the children to listen and create sound. I put out a variety of percussion instruments and asked the children to try to make sounds that would make their bears happy. We tested out each instrument to see what we could do with it, and how different techniques produced different sounds. The children then selected instruments and techniques that they felt created happy sounds, and we played all the instruments together. Some children also clapped or tapped their feet. Once we had produced a sound that we liked, we recorded it and listened to the music we had made. The children loved listening to their composition and identifying their own personal sound.
Goldilocks' cottage
We used the theme of Goldilocks and the Three Bears in our role-play corner. Instead of finding bear costumes, we talked about other ways to create a character and the children suggested the idea of masks. We made masks of Daddy Bear, Mummy Bear and Baby Bear, to use in the role-play cottage.
Other activities
The following activities are also in the Bears unit:
Teddy bear gallery of children's paintings and pictures.
Making sand porridge in Daddy, Mummy and Baby-bear portions.
Measuring sand and water in Daddy, Mummy and Baby-bear portions.
Walking, growling, climbing a tree and being chased by a honeybee to music.
A teddy bears' picnic.
International Primary Curriculum
The IPC is a practical, skills-based, international curriculum for lifelong learning that is used in over 51 countries throughout the world, including 410 state primary schools in the UK. The IPC provides a teaching framework and thematic units of work, cross-referenced to National Curriculum guidelines. For more information visit www.internationalprimarycurriculum.com or call 020 7531 9696.
Looking at our learning
At the end of the unit we went back to the first mindmap that we had created during our Knowledge Harvest. We looked at what we knew then about bears, and added all the new things we had learned. We made links to show how we had managed to make connections with our learning. The children were very confident in their knowledge and understanding about real bears, and were amazed to see how much they had learned.
Bears and multiple intelligences
The IPC Bears unit is excellent for including all learning styles and multiple intelligences. My children with special educational needs joined in and were actively engaged because it was a theme with which they were familiar. For the children who wanted to do more, there were plenty of activities that they could do at home with the bear travel diary. We also had a 'bear homework board', where children could pin up any bear-related activities they had done at home.