Health & wellbeing: Healthy eating on the menu
23 March 2009
Add to My Folder
This item has 5 stars
of a maximum 5
Rated 5/5 from 1 rating (Write a review)
Discover a healthy-eating programme that involves the whole-school community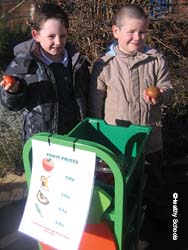 The Healthy Lunchbox Project encourages children to eat their 'five a day'
Nothing less than a revolution is taking place around healthy eating in our schools. Recent figures from the School Food Trust and Local Authority Caterers Association reveal that the take up of healthy school meals was up 2.3 per cent in primary schools during 2008. Teachers are increasingly recognising the intrinsic link between healthy eating and improved concentration, behaviour, and achievement in the classroom.
So, how do teachers go about supporting children to give them the confidence, skills and knowledge that they need to make healthy food choices throughout the school day? The practical framework provided by the National Healthy Schools Programme is offering support and guidance to drive forward healthy-eating campaigns in schools – with dramatic results.
What's in your lunchbox?
Working with Healthy Schools, ten schools in Derby, each based in some of the city's most deprived areas, recently took part in the Healthy Lunchbox Project that aimed to help improve healthy eating and enhance wellbeing among children. The first step was to carry out an audit of participating schools, with teachers asking children to draw the contents of their lunchboxes on a selected day. Kathryn Cordwell, a Healthy Schools project worker for Derby City Primary Care Trust, explains: 'We analysed the number of food portions in individual lunchboxes by specific food groups including fatty and sugary foods; meat, fish or alternatives; dairy; fruit and vegetables; bread and pasta, and so on. We then calculated the average number of portions for each food group and the results were shocking.
'The audit showed that by far the largest food portion was fatty and sugary food and drink. In some schools, this proved to be on average, as much as five times larger than what the good health model would suggest is a balanced portion. Although our analysis wasn't an exact science, our nutritionist believes that it is a very effective way of analysing children's eating habits, and it gave a good overall indication of where we should focus our efforts – highlighting clear needs.'
Eatwell plate
The research generated by the Derby audit resulted in a range of practical interventions, including advice leaflets for parents on packing a healthy lunch and 'reward stickers' designed for children who bring healthy items in their lunchboxes. The schools also held successful 'Healthy Living Weeks'. As Kathryn Cordwell explains: 'Lunchbox 'placemats' depicting the 'Eatwell Plate', which highlight foods suitable for packed lunches for each food group, were given to every child who had packed lunches. The children were encouraged to arrange their food on the placemat in the right food group whenever they were eating their lunch. It proved particularly effective as it served as a checklist and reminder to parents and carers, as well as to the children, about balance, variety and the recommended 'five a day'.'
Wheel of good health
A similar idea has also been developed at Alexandra First School in Northumberland, where 'Wheel of Good Health' placemats have been introduced into the dining hall. Again, the A3 laminated guides are used by children to help judge whether or not they are eating a healthy, balanced meal. Alexandra First School is based in an area of high deprivation and witnesses some severe health inequalities based around food and diet, so packed lunches again proved a primary focus. Pat Jones, a teacher at the school, says: 'Our local area has a high record of poor dental health and hygiene. Because of this, the school worked closely with a local community dental health worker to produce a leaflet that lists suggestions for healthy packed lunches for the children who bring them. The Northumberland Care Trust saw the leaflet and liked it so much that they offered to sponsor and print it on our behalf. It has since been made available as a health resource for all schools in the area.
'Our school dinners have also undergone a dramatic change in terms of the food on offer and dining room surroundings. Dinners are now made with fresh produce only and no fried or fatty food options are available. Our 'airline style' food trays, which we used for many years, have been replaced with conventional plates and bowls, with the main course given first and puddings dished out later. Now our children are eating more of the savoury course, too.'
A whole-school approach
Healthy Schools promotes close consultation with parents, and at Alexandra First School, parents are being supported on how to make more informed choices about their children's diets. For example, parents and carers have been invited to take part in after-school cookery workshops alongside their children, learning to cook a range of quick, simple, economical and healthy recipes. (Take a look at our healthy step-by-step recipe cards.) Pat Jones adds: 'These have proved very popular and have effectively served to encourage parents to become more aware of and involved in their children's health and wellbeing.
Similarly, parent workshops on packed lunches have been held in Derby schools. Healthy-eating promotions have also been incorporated into parents' evenings to help sensitively educate and support parents by covering some of the health and wellbeing benefits of healthy diets, as well as practical tips. Changing attitudes is an ongoing process, as Kathryn Cordwell explains: 'Of course, we still have some way to go in promoting healthy-eating messages to some of our 'harder to reach' parents and carers. But, we have also come across some really inspiring parents who have totally taken on the idea of food affecting their children's behaviour, concentration and learning. These families have seen some very positive outcomes (and a cheaper shopping bill) by making some simple changes such as choosing homemade balanced meals whenever possible.'
The Healthy Lunchbox Project is just one example where teachers are helping to shape school environments using practical steps to promote a culture of healthy eating throughout the school day and beyond.