Take a look at our selection of books that are ideal for inspiring reluctant readers
Win, win, win!
Visit our 'Giveaways' section to win some of the books featured in these reviews!
Oli and Skipjack's Tales of Trouble!: Gnomes are Forever … but diamonds come and go by Ceci Jenkinson (Faber & Faber, £4.99 PB)
'Brilliant,' Skipjack grinned… 'Gnomes definitely don't bark so they'll make pefect kidnapees.'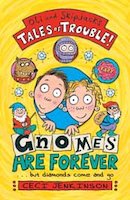 After grumpy bus driver, Mr Grimble, forces Oli and Skipjack to dig a potato bed in his garden, the boys resolve to 'liberate' some of Grimble's garden gnomes. But, little do they know that the gnomes are already playing a significant part in the local cat burglar's plans to relieve the town of all its diamonds. Chaos inevitably ensues, but the various strands of the story are cleverly and humorously intertwined, and neatly resolved.
With a great mix of characters, an original theme, and even a farting key ring, this is a roller-coaster read, ideal for more confident reluctant readers.
Suitable for: boys; girls; older readers; reluctant readers; more able readers; reading aloud
Derek the Sheep by Gary Northfield (Bloomsbury, £7.99 HB)

This book's striking cover immediately grabbed my eight-year-old's attention, and soon he was reading the collection of comic-strip adventures out loud and to himself. Derek the Sheep is featured in The Beano and what's great about him is his simplicity. Exploring seemingly limited topics such as grass, tractors, manure, insects, the weather and more grass, he can be stupid, grumpy and dissatisfied, yet rather loveable.
It's a straight-forward read (although Derek drops his 'hs, and the apostrophes could confuse readers) with a daft style of humour that will definitely appeal to older children, and pictures and stories that will grip younger ones, too.
Suitable for: girls; boys; younger readers; older readers; reluctant readers; reading aloud
Agent Alfie: Thunder Raker by Justin Richards (HarperCollins, £4.99 PB)

It's through a misunderstanding that Alfie arrives at Thunder Raker Manor. Here, children follow the normal curriculum (with the addition of bullet-proof vests for PE) but also learn camouflage, sabotage and codes. In among a group of extra-ordinary schoolchildren (mostly sons and daughters of spies), Alfie's straight-thinking, everyday approach to problem solving wins him friends and even a special award for his class.
The combined themes of school and spies provide a great hook to lure in uncertain readers, and the text is well spaced, fast paced, funny and uses familiar, school-based language. The code guide at the back of the book is an unexpected extra.
Suitable for: girls; boys; younger reades; reluctant readers; reading aloud
Wombat & Fox: Tales of the City by Terry Denton (Allen & Unwin, £3.99 PB)

A delightful collection of short stories about Wombat, Fox and friends. The characters are childlike – grumpy, excitable, selfish, sympathetic – and just a step on from those you might encounter in a picture book.
The beauty of these stories is their simplicity. The first – where Wombat finds a lucky coin that leads into a hilarious chase – has the slapstick humour of a silent movie. The stories are quite long, but the short, simple sentences are interwoven with wonderful illustrations that encourage swift progress, leaving hesitant readers with a real sense of achievement.
Suitable for: girls; boys; younger readers; reluctant readers; reading aloud
Tail-End Charlie by Mick Manning (Frances Lincoln, £11.99 HB)

This non-fiction book has a formula that's perfect for encouraging boys, in particular, to read. The story tells the true experiences of the author's father – an airgunner during World War II. It's an easy, interesting read, that's helped by the visual presentation of information. There are large lavish illustrations, cartoon speech bubbles, ration books, pages from log books and old postcards, photos of WWII adverts, badges and medals that all lend an authenticity to the design. Children can get lost in this book, hardly realising how much they are reading – and learning.
Suitable for: girls; boys; younger readers; reluctant readers; reading aloud
Even Stevens F.C. by Michael Rosen (Barn Owl Books, £4.99 PB)

The hilarious story of how Even Stevens F.C. gets through to the FA Cup final. With full colour illustrations and fast-paced, laugh-out-loud text – complete with speech bubbles and news reports – this really is a winner.
Suitable for: boys; older readers; reluctant readers; reading aloud
Scratch Kitten Goes to Sea by Jessica Green (Little Hare, £4.99 PB)

The first in this rather sweet series tells how Scratch, the little kitten, runs away to sea only to discover that life on board ship is much harder than he'd expected.
Suitable for: girls; boys; younger readers; reluctant readers; reading aloud
The Monkey Pirates by Mark Skelton (Egmont, £4.99 PB)

Emily Jane loses her uncle and finds some time-travelling monkeys in her wardrobe! Children will love the wild plot and Mr Gum-style silliness of this story that overflows with whacky word play.
Suitable for: girls; boys; younger readers; reluctant readers; reading aloud
Scream Street: Fang of the Vampire by Tommy Donbavand (Walker, £4.99 PB)

Packaged for direct reader appeal with a strong cover, collectors' cards and drops of 'blood' on the pages, this clever series finds werewolf, Luke Watson, protecting his 'normal' parents after they are mysteriously moved to Scream Street.
Suitable for: girls; boys; older readers; reluctant readers; more able readers; reading aloud
Our reviewer
Helen Greathead has worked in children's books for more than 20 years, during which time she ran the non-fiction department at Scholastic Children's Books. She was the original commissioning editor of the Horrible Histories series, and went on to start the Horrible Science and Horrible Geography series, among many others.
Her Tough Jobs series (A&C Black, £4.99 PB) invites the reader to put themselves in the place of a knight, fighter pilot, gladiator and pirate. She has two boys, aged eight and six, both expert reluctant readers.


Pirate Patch and the Black Bonnet Attack by Rose Impey (Orchard, £8.99 HB)
Bold colour illustrations and fast-paced text make this exciting little adventure the perfect read for a reluctant reader starting out on their own.
Suitable for: girls; boys; younger readers; reluctant readers; reading aloud