Broaden children's experience of 'great literature' with child-friendly classics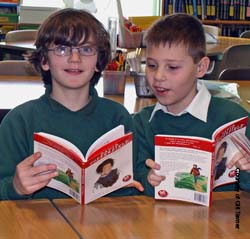 The Real Reads series allows Key Stage 2 children to experience some of the great classics of literature
In 2007, William Rees-Mogg wrote in The Times: 'Children should… have early exposure to great literature, to interesting stories… written by masters.' This was not a new idea. In 1921, the authors of the Newbolt Report expressed concern that a lack of exposure to art and literature meant that most people were 'living starved existences,' meaning that 'one of the richest fields of our spiritual being is left uncultivated.'
In recent years, teachers have had to focus on the transactional and functional use of language rather than upon 'great literature'. As Dr Nick McGuinn of The University of York suggests in The International Journal of the Book (2007), today's children often experience only sections of classic novels – short excerpts for tests or skill-based activities. This dry experience deprives them of the opportunity to enjoy the rewards of a complete novel. So, are children 'living starved existences'?
Not entirely. In spite of the pressures upon teachers over the past decade, they are still experts in encouraging children to read, successfully guiding them towards a wealth of excellent contemporary and classic children's literature. However, should they also introduce those more daunting texts, to which Rees Mogg refers as 'great literature'?
I believe teachers should. The stories, characters and moral dilemmas of 'great literature' have stood the test of time. Teachers have the opportunity, perhaps even the responsibility, to introduce children to their literary heritage.
Great expectations
Even if there were enough time in the school day to share a book of several hundred pages, most children would find the complete Great Expectations too daunting. Must we then, after all, turn to snippets of texts, or is there another way?
Two years ago, I enjoyed a chance conversation with John Button, who has worked in publishing for 30 years. We discussed, could classic literature be retold for children without losing intellectual integrity? Could the retellings be true to the original plot, characters and moral dilemmas? Could they be true to the original author's syntax and vocabulary, and yet an enjoyable 'real read' in themselves, independent of the original? And, could this be done in about 60 pages?
A bridge to the originals
Teachers, children and academics to whom we showed Oliver Twist - the first classic we experimented the Real Reads series with - enthusiastically agreed that the answer to all of the above questions was 'Yes'! Within months, Real Reads had published six illustrated retellings of Dickens' novels.
From the beginning, we were determined that the Real Reads series should be a bridge to the originals, rather than a replacement. The illustrations combine historical accuracy with a modern style and at the back of every Real Read, readers will find themselves directed towards the original, while teachers will find ideas for discussion and research.
Our next question was who should follow Dickens? Many people told us that Jane Austen's novels could not, perhaps even should not, be retold for children. The challenge was too great to ignore. The initial response of the Austen community to news of our project was at best lukewarm. But, when the books were published, even some of the most vociferous opponents conceded that the job had been done well.
Since then, Real Reads has published retellings of six classic science fiction novels, too. In 2009, we will publish Wuthering Heights, Jane Eyre, Tom Sawyer and Huckleberry Finn, soon followed by six first-person narratives from characters in the New Testament.
Real Reads in the classroom
Real Reads are now finding their way into schools in the UK and around the world. Teachers are developing exciting ways of using Real Reads within guided reading or as the core of a scheme of work. One teacher enthusiastically told us: 'Because Real Reads are so user friendly, I can easily differentiate within my plans, so the books can be enjoyed by children of all ages and abilities at a variety of levels. They are a gem!'
We are now working with international publishing partners to develop Real Reads of Chinese, Indian, American and French classics. Imagine children having access to great literature from a range of cultures!
Further information
For more information on Real Reads, visit www.realreads.co.uk Plus, see our 'Gveaways' section to enter our Austen reader offer!