Lizzy Lines' school decided to break free of single subjects and embrace topic-based teaching. Her first topic? The Vikings!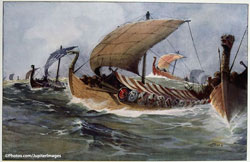 When we decided to return to a good old-fashioned topic-based curriculum, my heart jumped for joy. No more trying to jiggle the subjects around, squeezing two hours' worth of ideas into one hour or making tenuous links between one curriculum area and another. The freedom to embrace a topic and run with it through every area of the curriculum was like a dream come true.
Having got everyone on board with such a dramatic change, we then had to decide on a topic. We wanted something fresh, something exciting, something never taught in our infant school before. I wanted to do the Vikings! I have to admit here that I already had a bit of a passion for the Vikings. I've visited Iceland twice, the second time with my five-year-old son, and we had really played up the whole Viking thing while we were there. I knew it could work – I had seen the excitement the subject could bring to a small child with my own eyes.
But where would we start?
We had no QCA to guide us. We suddenly had the freedom to teach what we wanted, providing the National Curriculum skills were being met. I felt like I was on a teaching trolley-dash, throwing as many ideas as I could onto the plans with gay abandon.
If you were learning about the Vikings what would you like to know? I asked my class. We got the usual random answers you get from a bunch of five- and six-year-olds, including Did Vikings get married? Did they go to school? How did they go to the toilet? But we wanted it to be their topic as much as ours, so all questions had to be considered.
In the first few weeks we covered the basics: What did the children already know about the Vikings? Not a lot it would seem. Where did the Vikings come from? Cue an obsession with long boats. Why did the Vikings come to our country? This was a tricky one; we avoided the whole raping and pillaging issue, so coined it 'Raid, Trade and Invade'.
Covering curriculum subjects
By this point we were beginning to see the results we were hoping for: children who were excited, engaged, and inspired in their learning. Our literacy was non-fiction, our ICT was gathering information, and our RE was creation stories – and so the Vikings began to penetrate other areas of the curriculum.
We are fortunate enough to have an amazing music coordinator, who is equally passionate about the creative curriculum. She taught the children how to blow horns as though they were Viking warriors standing on the prow of their long ship. She also found us an amazing harpist who serenaded the children with her beautiful music and enthralled them with Viking sagas.
In D&T the children made models of longhouses; in art they painted shields. Classroom assistants helped the children make costumes, and we even tried dying cloth with vegetables for the full, somewhat smelly, experience. Home corners were transformed into Viking homes, and Viking-style food even met our 'Healthy Schools' pledge.
A Viking re-enactment!
In the sixth week, it was with great excitement that I was able to announce a Viking re-enactment group were coming to school. They were used to Key Stage 2 but promised they would tone down their performance for infants, some of whom have a sensitive nature. Despite this warning they didn't hold back on wielding their weapons with relish or enthralling the children with grisly tales. In fact, the only tears came at the end of the day when our Viking visitors decided to throw buckets of water over the children so they could truly experience the conditions suffered by a warrior caught in a storm on a long boat! The children went home that afternoon dripping wet but excited about the new things they had learned.
Then, in the last two weeks, came the part I'd been waiting for. For our geography we would be studying a modern Scandinavian country. For me, of course, that would be Iceland. Out came the holiday videos, souvenirs and lump of lava smuggled home in my husband's backpack. But what I really wanted was for the children to share my enthusiasm for this wonderful place. To get them to wonder what it must have been like for those Vikings who arrived in this unique wilderness. How could I convey to the children what it must have been like to arrive on an island created by a volcano ten million years ago? How could I recreate the geysers, waterfalls and bubbling mud pools?
The answer came to me courtesy of my son, who was playing with a science kit in the bath. 'Look Mummy,' he cried out delightedly as he blew into a long piece of tube and sent a gush of water over the floor, 'I've made a geyser!' And so my class became volcanologists for the last two weeks of term. Wearing scientists' white jackets and safety goggles, they blew bubbles into brown paint to make mud pools; squirted squeezy bottles full of water into the air to make geezers; and made a papier-mâché model of Iceland for their Viking figures to explore.
Ending the topic
We celebrated the end of our topic with a performance for the parents. Each class sang a Viking song, looked menacing with their shields, and showed off their costumes in a catwalk. It was the best bit for many of the children. Yet for me, the part of the topic, the bit that made me feel we had truly embraced our new creative curriculum, was my spur of the minute decision to ditch our traditional dance lesson plan and let the children dance to The Ride of the Valkyries instead.
As the sound of Wagner pounded through the hall, the boys bravely battled through the waves on their imaginary long boat. As the music swelled and the storm intensified, the girls heroically swooped down on their steeds and rescued the boys by taking them to live with them forever in Valhalla (or in this case, the staging at the back of the hall).
What a success!
Our Viking topic has received the most positive response ever from children, parents and staff alike. Our initial fear, of what to teach and how to find out about it, quickly evaporated. Indeed, when you are teaching something new and exciting, you are able to pass on that enthusiasm to your children. Their questions and suggestions can fuel your plans and enhance their learning.
By the way, Vikings did get married, but they didn't go to school; just two of many fascinating facts we learned. I still don't know, though, how Vikings went to the toilet!