Lizzy Lines' teaching assistant despairs of her love of props. But what's a teacher to do when the caretaker offers up a 'load of old junk'?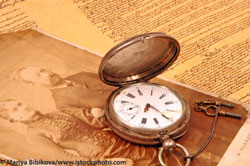 At the end of the school day, a couple of years ago, our caretaker mentioned to me that he'd noticed a 'load of old junk' in the garden of an old Victorian house next door to school. He thought this junk was the sort of thing that might be of use to me! This begins to tell you a little bit about my teaching style and my habit of hoarding things that 'might be of some use one day'. (Pity, now, my long-suffering, tidy-freak teaching assistant.)
Swiftly acting on this piece of information, I dropped a tentative note through the front door of said house. I suggested in the note that I relieve the owners of any items they no longer required. And then promptly forgot all about it.
Imagine my surprise when, six weeks later, my headteacher interrupted my numeracy lesson to announce I had half an hour to collect all that I wanted from the house before it disappeared forever into a waiting skip. Grabbing a band of willing volunteers (i.e. all those who had finished their page of sums), we hurried out in anticipation.
The Victorian house
I had never really paid much attention to the house, even though I had passed it every working day for the last six years. It had always looked a little overgrown and in need of a good lick of paint, but other than that it was rather insignificant. So it was with great excitement that we left school unexpectedly, knocked on the door of the old house (the knocker was ominously shaped like a bat), and entered the gloomy hallway.
It transpired that the house had belonged to an elderly lady who had recently passed away. She had lived there for 90 years, and it occurred to me that she had probably attended our school as a girl. Little or no alterations internally or externally had been made to the house, electricity having only been installed five years previously as a prerequisite for her being discharged from hospital. Consequently, the house was like an Aladdin's cave full of the type of artefacts only ever dreamed of by your average history coordinator.
Help yourself!
'Help yourself to anything that's not nailed down,' we were told by the departed's niece. We didn't need to be told twice. For the children it was like being in a museum where you could take the exhibits home with you. Having explored the premises, stuck our head up fireplaces and investigated the outside loo, we loaded up boxes with our treasures. These included cast-iron scales, wooden pegs, enamel tins, a scrubbing board, gas lanterns, a washing dolly, tin bath and even a small mangle. My only regret was having to leave the iron bedstead behind – it would never have fitted into the home corner!
The raiders return
Like glorious Viking raiders we returned weary, but proud, to school. Those just finishing off their sums gazed at us in wonder. My teaching assistant, meanwhile, gave a little sob of despair as we piled up our treasures on the carpet.
You can describe to a child what it was like, to do the washing in the days before electricity. Yet turning your classroom into a Victorian laundry certainly brings the whole process to life (cue classroom assistant with mop and bucket and pained expression). Being able to hear the washing dolly slurp, scrubbing away on the washboard and hearing horror stories of trapped fingers in mangles, stays in a child's memory forever.
Of all subjects, history lends itself best to creative teaching. And fully immersing a class into a topic by having themed days, or weeks, can make even the driest of topics come alive. You may not be as fortunate as I was when it comes to acquiring artefacts, but many museums have a loans service. Also, just one lucky find at a car boot sale can provide inspiration for a week's topic work; I once based a whole lesson around a scrubbing brush!
Using the 'treasures'
My 'treasures' have served me well over the past few years, making appearances during our Homes topic, Florence Nightingale, our Victorian Week, and our 1940s Week. We are currently addressing environmental issues, and I have used my artefacts to demonstrate how reliant we have become on electricity. My class have had the opportunity to investigate what it was like before we had all these electrical appliances to help us with the chores.
So I guess the caretaker right when he suggested I rescued the old junk from the house next door to school. We are always being encouraged to reuse and recycle, and what better use for the old lady's possessions than to be used in the school she probably once attended, 85 years ago.