When setting up your outdoor space, simple but effective changes can help you to deliver high-quality outdoor experiences, as Tracey Godridge explains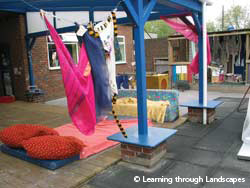 The outdoors is a special place for children and contributes enormously to their health, happiness, stimulation and development. Spending time outdoors is a necessary part of early years provision. The 'Practice Guidance for the Early Years Foundation Stage' states that 'all early years providers must have access to an outdoor area which can benefit the children' and that 'being outdoors has a positive impact on children's sense of well-being and helps all aspects of children's development'.
It also recognises that 'being outdoors offers opportunities for doing things in different ways and on different scales than when indoors', that it gives children 'first-hand contact with weather, seasons and the natural world' and offers children 'freedom to explore, use their senses and be physically active and exuberant'.
Sometimes, however, while you may know what you would like to offer children outdoors, making those first steps can seem overwhelming. The good news is that there are lots of low-cost ideas and solutions that can quickly and effectively transform your outdoors, and help you to create an invaluable outdoor experience.
Organise the transition zone
This is the area between indoors and out, a space where children and adults can contemplate or review activity, observe others and make choices – without being 'in the way'. It is an essential and often neglected space in settings, and getting it right will make an enormous difference to the success of the outdoor spaces that your children have access to.
THINK ABOUT
a low-level coat/rainwear rack and a wellington boot shelf near the door to the outdoor space – this will support children's independence and 'free-flow' movement between the indoor and outdoor halves of your provision
a device to slowly close the door to prevent it slamming
a doormat to avoid the outdoors coming in
a canopy over the outdoor part of the transition zone to provide more circulation and observation space, and offer an area for sheltered outdoor play when the weather is not so good.
Have a supply of suitable outdoor clothing
Ask for donations from parents, visit charity shops and jumble sales or fundraise.
THINK ABOUT
wellies, umbrellas, raincoats and hats, gloves and scarves
overexposure to the sun – colourful sunhats and sunblock sticks in bright neon colours will help get the children to cover up
your staff too – ensure that they have suitable clothing so they are always keen to go outside.
Choose open-ended, versatile resources
The outdoors is great for physical activity and letting off steam, but with the right resources it can offer so much more. Open-ended, versatile resources not only inspire and support children's creativity and imagination, but also provide high play value, so fewer items are needed.
THINK ABOUT
resources that can become a variety of things, for example, old sheets or lengths of blanket, along with string and clips, can provide a vast range of play activities such as den-building or picnicking; kitchen utensils such as spoons, pots and pans can be used for excavating or making potions; and pebbles and shells can be transported, used in mini-worlds or turned into pretend food
making themed collections of resources, such as outdoor art, den-building, music and movement, exploring water and role play – having kits like these ready to hand is great for resourcing spontaneous play
keeping the costs down by asking parents, families, people in the community and local businesses to contribute, as well as visiting local scrapstores, charity shops, markets, discount shops and

DIY

stores.
Organise your resources
Make sure that your equipment is easy to access – not just for staff but the children as well. They need to be able to get items out for themselves and put them away again in the correct place.
THINK ABOUT
outside storage – you need to have equipment near to where it will be used
having more than one storage unit – one for large resources and one for smaller ones
boxes with wheels, bags and tubs with handles, crates with lids and trolleys with trays, which are all easy-to-move containers
labelling storage containers, especially with photos to ensure items are easy to find and are returned to the correct place.
Use existing features
There will be lots of elements already in your space that you can make use of.
THINK ABOUT
walls – use them to chalk on or attach large boards for big painting surfaces
fences – use them for weaving, displaying pictures, and tying ropes to for den-building
shrubs – can they be thinned out to create a new natural play environment?
Further information
Learning through Landscapes (LTL) is the national school grounds charity that advocates a holistic, participative and sustainable approach to outdoor development. It offers a membership scheme, 'Early Years Outdoors', which is aimed specifically at meeting the needs of those working with children from birth to five.
As well as unlimited access to a specialist advice line, subscribers receive bi-monthly mailings offering illustrated advice on improving and using outdoor areas to deliver high-quality outdoor experiences. There is also a searchable library of resources on the website, and discounts on training events and conferences. Visit Learning through Landscapes or call 01962 845811.
Zone your area
It can be helpful to zone areas to separate different and potentially conflicting types of activity. Observe existing play patterns – both group play and individual play. Use this information to create a zoning plan, breaking up larger places into a more manageable one, and creating spaces where activities can be carried out harmoniously.
THINK ABOUT
types of activity rather than specific activities – for example, physical play, imaginative play, social play and cognitive play
locating complimentary zones adjacent to one another – a natural, green zone for exploring next to the reading, artwork zone to create a quiet space
using temporary zoning – traffic cones, chalk marking, tables and crates, so that the children can have fun deciding where each zone will be on a daily basis.
Observe!
Watching the children play to see what interests them is the best way to make decisions about how to set up your outdoor area, both immediately and in the long term. This will help to establish what features and areas to keep the same, because they are already offering what the children need and are important to them. It will also suggest where you need to improve facilities, and begin to help you identify gaps in provision that you could start to develop.