If you are looking for a story to share to compliment the Castles theme in the latest issue of Literacy Time PLUS, then Brenda Williams' latest book The Real Princess: A Mathemagical Tale is a great place to start.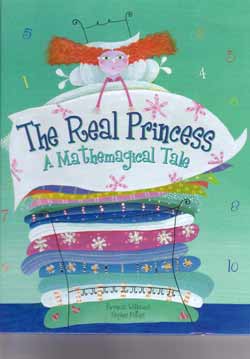 Far away, in a tall, turreted castle, live a king and queen with 3 sons, 4 horses, 6 dogs and many servants (45 altogether). The time has come for the eldest prince to find a wife, but only a real princess will do… and how can he be sure that she is real? Fortunately, the queen has a secret magical solution.
Brenda Williams shared The Real Princess with her audience at a Scholastic-sponsored workshop at the 2008 Warwick Words literary festival. Watch some film clips here and don't miss an original story by Brenda, The Castle Tournament, inside the May issue of Literacy Time PLUS Ages 5 to 7 magazine.
Mathemagical fun
A delightful twist on a traditional tale, The Real Princess by Brenda Williams includes all kinds of opportunities for mathemagical fun. Children will love keeping count of the number of magical peas that the queen places underneath each potential princess's mattress, and totting up the bags of gold remaining in the king's counting house.
The Real Princess – A Mathemagical Tale by Brenda Williams, illustrated by Sophie Fatus, is published by Barefoot Books, ISBN 978 19052 36879), www.barefootbooks.com.
And they will love the way Brenda Williams weaves original ideas into the much-loved and familiar storyline of the Princess and the Pea, including a false ending to keep the reader guessing.
Sophie Fatus' patchwork-style illustrations, with rich colours and quirky characters, add to the fun, making this a wonderful book to share in the classroom or at home.
Young mathematicians will also be pleased to know that there is a counting quiz at the back of the book.