Celebrate the past and present using everyday objects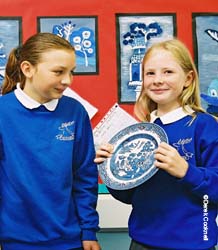 Online extras —
POSTER

and

WORKSHEETS

!


Use our fantastic, modern-looking timeline poster of inventions to show children how things have evolved over time. We're right up to date with Apple's® latest launch of the world's smallest MP3 player – the size of an AA battery! Plus, FREE activity sheets.
Ideas for the classroom — setting up a museum
For more ideas on setting up a museum in your classroom to enrich your topic teaching, read our creative topic Welcome to our museum — a cross-curricular approach to not only showcasing children's hard work but putting them in the driving seat for their own learning, too (subscribers only).

Plus, read our exclusively online article, Project Island, to discover how Year 3 children at St Mary's Island C of E Primary School in Chatham used the history on their doorstep to create their own school museum (subscribers only).
You will need:
Mobile phone; vinyl record; cassette, CD; MP3 player; old sepia photograph; pre-decimal currency and a whiteboard displaying the names Alexander Graham Bell and William Henry Fox Talbot.
Introduction
Museums can tell us about the past – how people lived and the kinds of objects they used. Some museums are full of rare artefacts such as mummies, ancient statues or even huge aeroplanes. This assembly is going to concentrate on looking at the everyday things that people have used in their houses over time.
Main assembly
Introduce the idea of how we could set up our own personal museums because we all have something that we have used in the past that is either old, out of date or no longer useful.
Ask the children to think of things that they have in their homes that are old and interesting. If they need help, suggest old clocks, antiques from their great grandparents, collection of old coins, magazines, other collectables, and so on. If someone has something really interesting or unusual let them tell the rest of the children about it.
In the home: Some museums show us how everyday things have developed, comparing the old with the new. For example, some museums have kitchens or bathrooms with all kinds of objects that are different to the ones that we use today to help us imagine how past generations lived. Ask the children how they think people in the past washed their clothes, cleaned their teeth, cooked their food and heated their houses.
Famous inventors: Tell the children that some of the things that they have in their houses can be linked to famous inventors. Show them an old sepia photograph and talk briefly about William Henry Fox Talbot, one of the pioneers of early photography. Remind the children how important photographs are in museums because they can show us what life in the past actually looked like. Next, show the children a mobile phone. Talk about Alexander Graham Bell and how he is famous for inventing the telephone.
Music through the ages: Ask the children if they like listening to music and what they listen to it on. They should suggest a whole range of appliances ranging from car radio/CD players to their own personal systems and mobile phones. Tell them that you have your own mini museum of 'How music was played' and show them the vinyl disc, cassette, CD and MP3 player.
Gadgets old and new: A museum of modern electrical equipment would contain hundreds of different objects because changes in technology have been so fast. Explain to the children that the first computers, for example, filled whole rooms and weren't even as powerful as the smallest 21st century laptop.
History of sport: Museums can show us that even the simplest things have changed. Football, for example, used to be played with an inflated animal bladder and football boots used to be made from thick, heavy leather.
Pre-decimal money: Show the children some pre-decimal coins, such as a sixpence, florin, half crown, or even just older varieties of decimal coins or notes no longer in circulation. Explain that even money can appear in museums to show us what kind of money was used in the past.
Closing thought or prayer
All of us here have a past and we each have personal items that tell us about it. We could all use these objects to show our friends how we have changed and developed.