Teacher Talk: Living in a 'blame culture' and school trips
20 April 2009
Add to My Folder
... a place to catch up on staffroom chatter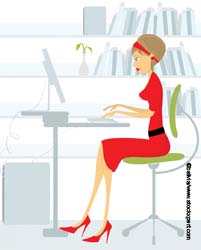 Sarah Denyer — NQT
School-trip plans
NQT, Sarah Denyer's first school trip was planned with SAS-style precision. So, how did the big day go?
While planning my first school trip – a feeling of excitement for what the children would experience was initially all that crossed my mind. 'Brilliant,' I thought to myself, 'a trip to the Science Museum!' Just going to London is by far exciting enough for some of my class, particularly those who have never left their home town before.
Risk-assessment rigmarole
As the trip drew nearer, I was asked to compile the risk assessment as part of my professional development as an NQT. But, as I began writing, I was suddenly faced with some of the potential dangers of school trips. Not only was I going to be jointly responsible for all the children and accompanying adults, but I had to account for the possibility of events like the coach crashing or a member of the public kidnapping a child. To top it off, I was also the designated first aider!
A calm mind was called for, so I drew up a detailed risk assessment; I figured that for my own sanity, as long as I had an action plan for every eventuality, I'd be OK.
A grand day out
Our day out was brilliant! Although, while the children enjoyed hours of fun experimenting and exploration, I spent hours head counting and taking photographs. I did have a lot of fun in between, though, and just to see the amount of enthusiastic learning taking place was a sheer delight.
The peace as the children slept quietly on the trip home was testament to the amount of physical and mental energy we had expended throughout the day. And although exhausted too, I can't wait for the next trip!
Are we living in a 'blame culture'?
Like many children, when I was at school, I was, on the whole, well behaved. I loved learning and enjoyed my education thoroughly. On the odd occasion, however, when I didn't behave as I was expected to, I accepted the sanctions given. If, perchance, I happened to tell my Mum that I'd been told off or disciplined, her response tended to be an unsympathetic: 'Well you must have deserved it!'
Striking a balance
Many teachers are lucky to have supportive relationships with most of their children's parents. However, some of us may also encounter parents who prefer to charge angrily from the school gate demanding an explanation for their child's teacher's 'unreasonable' behaviour. No phone calls beforehand to clarify the situation, no asking for the other side of the story – just a straight-for-the-jugular approach.
While it's understandable that when a child is upset a parent will naturally be concerned, situations such as this need to be dealt with – by the teacher and parent – in a calm, sensitive fashion. Many schools have adopted an open-door policy whereby parents can pop in at the end of the day if they need to discuss anything. I firmly believe that this encourages a welcoming environment whereby a healthy, non-confrontational dialogue can take place. Unfortunately, however, this is not always the case.
'I have had children in the past who have thought nothing of 'telling porkies' at home, allowing their angry parents to come storming into school afterwards'
Teachers are only human
I am not on any account suggesting that children do not tell the truth, that they should not be believed over and above an adult, and that parents do not have the right to raise questions about their child's education. There are obviously times when teachers get it wrong – we are, after all, only human. However, I am curious to discover when our culture shifted to one of blame – with a child being believed without hearing a teacher's point of view. Where has a mediated approach to questioning teachers' actions disappeared to?
I have had children in the past who have thought nothing of 'telling porkies' at home, allowing their angry parents to come storming into school afterwards. Often, these parents are left feeling slightly foolish when they discover what actually occurred.
Think happy thoughts
In most cases, situations such as these can be resolved with a constructive parent-teacher meeting, but there still remain some parents who will not accept that their child is responsible. Unfortunately, it is unlikely that the attitudes of this minority of parents will change. So, we grin and bear it (and perhaps have a good whinge about it in the staffroom) because we focus instead on the positive elements of the job that makes teaching so worthwhile.
The real key, I believe, is ensuring that you have a supportive Head behind you who acknowledges your professionalism and judgement. Also vital is upholding as many positive relationships with your children's parents as you can, and knowing yourself to be a firm but fair teacher who is consistent in your approach to discipline in the classroom.

Mel Campbell — 2008 Junior Ed PLUS Guest Editor and Year 6 teacher
Chat with other teachers and have your say on our Teacher talk forum about resources, policies or lesson ideas.