Discover how your local environment can offer great learning experiences…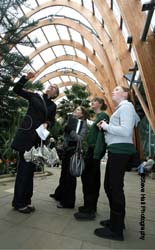 What makes up a street? Why does it look the way it does? How has it evolved? Can it be changed for the better? Our street: learning to see is a free resource published by CABE that aims to introduce Key Stage 2 children to the built environment around them.
Taking a single street, any street, as its subject, the resource is intended to promote visual awareness and understanding of the built environment using a familiar street setting. Using their personal experiences as a starting point, children can develop their knowledge of the design and impact of local buildings and the spaces in between them. They can then make up their own minds about the quality of their surroundings and think about how they might be improved.
This article gives you a snapshot of the activities taken from Our street: learning to see's scheme of work, 'Analysing the street' (see 'More about the resource', below) and provides some additional ideas to try out with your class.
Cross-curricular links: English, science, art and design, geography, D&T and maths.
QCA links: Geography Unit 6 – Investigating our local area.
Analysing the street – before you start
Choose your street carefully. It should

have a good mix of building types, including residential, public and commercial premises, from different periods of history
be short enough for the class to be able to walk along during the visit(s)
ideally be within walking distance of the school
link to other planned work, for example homes and houses or the Victorians.

Carry out a risk assessment.
Display photos of the street to show style and variety of buildings.
Display a map of the local area.
Activities
1. Thinking about our street
Aim: For the children to recall the street from memory and to think creatively about what they might see, hear and smell.
As an entry point activity, and without showing them any pictures, ask the children to imagine/recall the street they are going to visit and to think about what they would see, hear and smell. Invite them to write their ideas down. You could divide the class into five groups and get them to record their thoughts on a digital video camera. Ask: If you could choose a piece of music to describe your street, what would it be? For example, would they choose a piece of rock music because of the traffic noise? Or, would they choose a slow instrumental piece because the road is quiet? Pose questions that get the children thinking creatively about how they envisage the street from memory. Can they describe their street in ten words? Ask the same questions after their visit and record their thoughts. You could play both sets of video recordings to compare answers. How do they differ? How are they similar?
2. Introducing the street
Aim: To introduce children to 'the street' and the variety of building styles and features they might expect to find.
On the day of your visit, divide the class into the same five groups as the entry point activity (see above). Remind the children of the street you are going to visit. Look at the images you have prepared and talk about the different styles of buildings – their shape and the materials that they are made from. Introduce architectural vocabulary by encouraging class feedback under headings such as: Materials, Shapes, Doors, Windows and Patterns. Display the map of your local area to show the children exactly where they will be going so that they can get their bearings.
3. Our street – the visit
Aim: To observe and record features of the street.
In their groups, assign the children a different detective mission that will help them to create a class mood board of their street when they get back to the classroom. Ask them to focus on a particular aspect, such as colours, materials, vocabulary and pictures to reflect what they see. If necessary, show the children some example mood boards beforehand and discuss their features. During the detective mission task, the children could use digital cameras and video cameras to record them investigating the following challenges:
Windows: How many different types of window can you find? What is different about them? Why are they different?
Doors, knobs and knockers: How many different types of door can you find? What is different about them? Why do you think they are different?
Materials: How many different materials can you find on the buildings? What do they do? What does this tell you?
Shapes and symmetry: What shapes can you find in the buildings? Can you find buildings that are symmetrical/asymmetrical?
Pattern and colour: What patterns can you find in the buildings? Why do you think that pattern has been used? What colours can you find? Why are they there?
Remind the children to look above and below their eye line to take in what's around them. Encourage them to think about what they hear and smell too, and to revisit questions raised during the entry point.
4. Back in the classroom
Aim: To identify what the children have learned and to share information with others.
Once the children have returned from their visit, ask each group to think about what they have found out about their street, before creating their own mood boards. Talk about the information that each group needs to share and to decide how they could show the information in different ways, for example through pictures, words, colours, and so on. You could also share what the children have found with the school as part of an assembly.
Extension activities could include researching the street as it was in the past. Take a trip to the local library to try and find out some local history.
More about the resource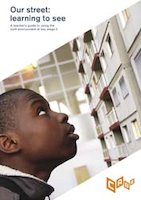 Our street: learning to see is a FREE resource that includes three progressive schemes of work: 'Analysing the street'; 'Change' and 'Making judgements and improvements'.
There is an introductory page for each scheme, outlining curriculum links, objectives, outcomes and expectations, a full set of lesson plans and information pages that provide background to the scheme. Resource sheets listed in the lesson plans can be found on the accompanying CD, and adapted if required. Although the resource is divided into three schemes of work, it is possible to use it in many different ways. It can also be dipped into for information, and ideas and activities can be used independently to support other classroom work. A fieldwork visit has been included for each scheme. Visit the Engaging Places website to download or order the resource.
Engaging Places is a campaign encouraging teachers to use the built environment as a fresh way to deliver learning and inspire children. It's about using places and buildings to make the process of learning any subject creative and relevant.