Paul Cookson Poetry Workshop (Part 3) – Lots of minibeasts
30 April 2009
Add to My Folder
This item has 3 stars
of a maximum 5
Rated 3/5 from 2 ratings (Write a review)
In this final part of our performance poetry workshop films, Paul Cookson works with KS1 children using dinosaurs and lists as a starting point for a group poem.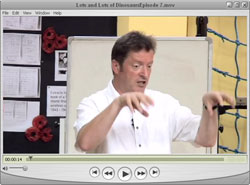 As in the film, you can start with a list. The list could be about anything – eg, farm animals, pets, fish, birds, jungle creatures – but the example given focuses on minibeasts and creepy-crawlies.
Creating your poem
Step 1
Make a list of creepy-crawlies (about 12-14 will work well for a verse).
Step 2
Say these out loud in rhythm, asking the children to repeat after you:

Spi-ders, bee-tles
Ants and butterflies

Step 3
Add some -ing words. What are these creatures doing? There is only one rule: no words can be repeated.

Spiders climbing
Beetles creeping
Ants crawling
Butterflies flying
Say these rhythmically with the children.

Step 4
Add a chorus; something simple that is repeated after every four lines – eg:

Creepies here, crawlies there
Creepy-crawlies everywhere

Previous learning
Children should have experience of: listening to poems and making up their own; responding with relevant comments; extending their vocabulary, exploring the meaning/sound of new words; interacting with others and taking turns; writing for different purposes using different forms – eg, lists.
Step 5
Next, give the children the chance to be funny. They'll love this bit! Ask the children what their favourite food is. Add this to your first line – eg:

Spiders climbing on my pizza

Now ask them to think of a body part. Where are the beetles creeping?

Beetles creeping up my nose

For line 3, think about clothes. With ants there's only one answer:

Ants crawling in my pants

Now, think of somewhere round the house for line 4:

Butterflies flying in my bed

Put them together:

Spiders climbing in my pizza
Beetles creeping up my nose
Ants crawling in my pants
Butterflies flying in my bed
Creepies here, crawlies there
Creepy-crawlies everywhere ...

Key learning outcomes:
To experiment with new/interesting words/phrases;
To take turns to speak/offer suggestions;
To discuss why they like a performance;
To explore the effect of language patterns/repeated words;
To create short/simple poems.
Other options
Step 6
You could, of course, have a whole poem about food, or a whole poem about clothes. Or try a more descriptive option. List some -ly words and add them to your poem:

Spiders climbing creepily
Beetles creeping slowly
Ants crawling quickly
Butterflies flying gracefully

Step 7
Add numbers, colours, descriptions:

Ten black hairy spiders climbing creepily
Nine purple shiny beetles creeping slowly
Eight red tiny ants crawling quickly
Seven yellow spotty butterflies flying gracefully

Step 8
Now, where are these going? Eg:
Ten black hairy spiders climbing creepily up the wall at midnight Use the activity sheet below to create ideas individually or in pairs, then combine in a class poem for a stunning visual display.
And finally, Step 9
Reverse the order and have Climbing spiders, etc. Then reverse the order again, eg: Creepily climbing spiders. Mix them up:

Spiders creepily climbing
Hairy spiders creepily climbing...
Black hairy spiders creepily climbing...
Ten black hairy spiders creepily climbing
Chop and change words and repeat some phrases:

Hairy spiders, hairy spiders
Ten black hairy spiders...

Did you miss Parts 1 and 2?
Don't worry… Parts 1 and 2 of Paul Cookson's Poetry Workshop are still available here on the website for subscribers to download. Part 1 was published in September 2008, and Part 2 in January 2009.