This amusing poster suggests two ways of attacking and capturing a castle. The three set of instructions use generic text type features, such as: statement of purpose, equipment needed, ordered steps and illustrations to help exemplify points. The poster should be particularly motivating for boys and will provide lots of scope for role play.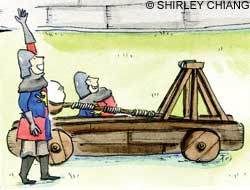 Shared teaching and learning
Shared reading
Read the title and ask the children to share what they already know about life in a castle.
Recap the generic features of instructional texts and ask the children to look out for them as you read the poster.
Look at the poster, directing the children to the illustrations, then discuss what is happening. Ask them to identify what the poster is for and how the illustrations help.
Read the poster together.
List new vocabulary and discuss the meaning of the new words – eg, storm, siege, catapult, battering ram, surrender, capture, surround.
Discuss and share opinions on the merits of each attack approach.
Use junk models, small world play and role play to act out the instructions to help make them real.
Identify and list imperative verbs.
Notice use of bullets, numbers and sequencing connectives.
Notice how some instructions have a second sentence giving extra information.
Discuss the possible impact of each instruction. For example, in 'Storming the Castle', why do you need to get ready at night?
Previous learning
Children should have experience of: using spoken language in play and learning; using talk to organise, sequence, clarify ideas; extending their vocabulary; interacting with others and negotiating plans; finding information in non-fiction texts; writing for different purposes – eg, lists, instructions.
Preparation
Set up a castle role-play area (see activity sheet below for ideas). Develop the book area to include non-fiction books about castles, weapons and everyday castle life; fiction books, including myths and legends (eg, Robin Hood, King Arthur); simple peasant tabards to dress up when reading; artefacts and small world items (eg, toy knights).
Shared writing
Model how to improve some of the instructions by adding adjectives or adverbs, orally at first and then in writing – eg, Wait quietly near the castle, or First, roll the huge catapults. Act out some of the other instructions – eg, hammering the castle walls or fighting the enemy with bows and swords – to help children decide which adjectives or adverbs to include.
Model how to write a new set of instructions – eg, for 'How to build a castle' (see On-screen resource 2) or 'How to write clear instructions'.
Guided and group activities
In pairs, research other information about life in a castle. Read castle stories. Make a list of new castle-related vocabulary.
Use the role-play area to act out some of the stories.
Build castles from constructions kit or modelling materials in DT and art sessions.
Use small world and role play to work out other ways to attack a castle.
Support the children as they tell each other new instructions for building castles, attacking a castle or battling with other soldiers. Practise and refine these instructions orally by trying them out. Support the children to write them down when they are really familiar with them.
Key learning outcomes:
To build new stores of words;
To explain ideas/processes;
To use improvisation and role play and visualise events;
To recognise main elements that shape different texts/explain organisational features;
To compose a chronological text using simple structures;
To maintain consistency in purpose/tense.
Plenary
Review some of the new vocabulary and practise composing oral sentences using these new words.
Share some interesting facts found.
Discuss the effectiveness of some of the new instructions. How have they evolved from the first oral composition to the final written version? What changed?