This game uses a castle scene as the stimulus to develop oral sentence composition, practise reading skills and introduce some new themed vocabulary. It links closely to the content of Poster 1, How to attack a castle.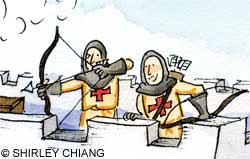 Before playing
Look at the picture together and discuss the scene. Encourage the children to be as precise as possible when describing the aspects of the scene. If necessary, ask prompt questions which invite descriptive answers – eg:

What can you see on the drawbridge?
What is about to happen on the battlements?
Why do you think the man has a ladder?
What do you think the tunnel is for?
What can you see happening inside the castle courtyard?

Look at some of the pictures around the edge and match them to the main picture.
Read the labels.
Previous learning
Much of the new vocabulary will be decodable for children working within Phase 5 of Letters and Sounds, with an increasing knowledge of common alternative graphemes.
Preparation
Enlarge the word sheet below, copy the words onto card and cut them up to make small playing cards.
Playing the game
The game is best played in pairs. The children will need to be supported by an adult, at least initially. The aim is to try to win and keep as many of the word cards as possible.
Lay the word cards out on the table face up. The first child of each pair chooses a word card, reads it and matches it to the picture and label around the outside of the game board. They must then orally compose a sentence based on the picture and using the word.
The second child in the pair now tries to win the word card, by composing a second sentence which adds detail to complement the first sentence.
If child 2 cannot compose an additional sentence, child 1 keeps the card.
If child 2 is successful, child 1 can make a final challenge to win the word: he or she chooses a connective from the selection on the game board and composes a third sentence using this word as well.
If they are unable to make this third sentence, child 2 retains the word card.
Child 2 then has his or her own turn, repeating the process.
The winner is person with most word cards at the end of play.
Key learning outcomes:
To build new stores of words;
To follow instructions;
To take turns;
To compose sentences using tense consistently;
To use connectives.
Variation
Use the connectives in all sentences.
Play the game in the same way, but place the vocabulary cards face down on the table.
Play the game in two pairs, with each pair working together to think up the sentences.