This fantasy story has been specially written for Literacy Time PLUS by Brenda Williams. It uses story language that children will be familiar with as well as castle-related vocabulary. The story will appeal to both boys and girls.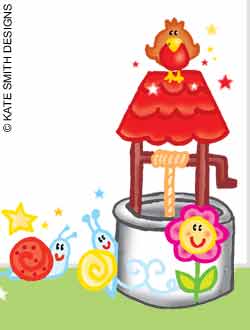 These teachers' notes accompany the PRINT ONLY guided reading leaflet in Literacy Time PLUS for Ages 5 to 7, May 2009.
Before reading
Read the title to the children. What do they think is going to happen?
Remind them about strategies for reading: to sound out unfamiliar words; look carefully at the phonemes and check to see if there are any digraphs or trigraphs; sound out the phonemes in order.
Pick some key words from the second sentence and work out together how many syllables are in the words. Clap them so that the children can hear the syllables. Can the children find a three-syllable word in the third paragraph? Remind them to break longer words down into syllables as a strategy for reading.
Tell the children to think about what they read because you will be asking them questions when they have finished.
Previous learning
Children should have experience of: listening and responding to stories; using talk to clarify ideas; extending their vocabulary, exploring the meaning and sound of new words; recreating roles in drama; reading some HF words and using phonic knowledge to attempt more complex words; the elements of stories (main character, sequence of events, openings); writing simple stories.
Reading the text
Ask the children to read to 'Even William was glum. "It will not be the same without the decorations," he said.' (Challenge children who read more quickly to find and list high frequency words while waiting for the others to get to the same point.)
Listen to individual readers, noticing strategies they are using to work out unfamiliar words. Guide them in sounding out words and using single phonemes, digraphs and trigraphs.
Once all the children have reached the point mentioned above, ask them to predict how they think the castle will eventually be decorated.
Continue reading to the end, seeing if anyone was correct in their prediction.
Responding to the text
Discuss if anyone predicted correctly how the castle would be decorated.
Ask the following questions:

Why did the castle have to be decorated?
Who decorated most of the castle?
Who helped to complete the decorating of the castle?
What was the difference in Joanna's feelings at the beginning of the story and at the end?

Ask the children to list the words which were unfamiliar to them and to explain how they worked them out.
Invite the children to retell the story to a partner using their own words.
Key learning outcomes:
To retell stories, ordering events using story language;
To recognise automatically HF words;
To tackle unfamiliar words/read more challenging texts;
To read/spell phonically decodable two- and three-syllable words;
To use key features of narrative in own writing.
More stories by Brenda Williams
The Real Princess – A Mathemagical Tale (Barefoot Books, 978 19052 36879, www.barefootbooks.com). 1 butler, 2 footmen, 3 princes and how many mattresses? Young readers will love figuring their way through this mathemagical adventure to help the princes and princesses find their ideal partners. Watch film extracts of Brenda reading this book at the Warwick Words festival here. The First Rainbow – Retelling of a North American folk tale for group reading. Literacy Time PLUS Ages 5 to 7, November 2008, Issue 39. The Thunder Giant – Downloadable audio story and poem. Literacy Time PLUS Ages 5 to 7, March 2008, Issue 35.
Follow-up to guided reading
Ask the children to write their own versions of the story, using story language. Can they think of a different way in which the castle could be decorated? Encourage more able children to use compound sentences and subordination in relation to time when they compose their story.
Role play the story, using different voices for each character. Make puppets for each character and perform a puppet show to the class. More able children could write a script for the performance.
Make a drawing/painting/collage/ICT picture of the castle showing how it would look when decorated. Label the picture explaining how each part was decorated.
Use the activity sheet below to practise using interesting adjectives to describe the castle before and after it was decorated. Encourage the children to think about how many syllables their words have. Can they challenge themselves to use longer words?