Sylvia Clements investigates how you can make the move from Key Stage 1 to Key Stage 2 as smooth as possible for your children.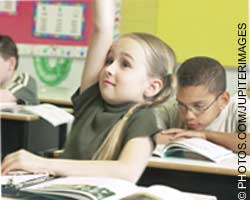 Sustaining Children Progress at Year 3 by Christine Doddington, Julia Flutter and Jean Ruddock (Journal: Research in Education, Vol 61, May 1999, ISSN 0034-5237) can be obtained from the Faculty of Education, Homerton College, Hills Road, Cambridge CB2 2PH.
As far back as the 1970s and 80s, national studies identified a dip in achievement by Year 3 children. Professor Christine Doddington of Cambridge University's School of Education, led an investigation* into the reasons for that dip, and found that the Key Stage 1 to Key Stage 2 transition itself was a major contributory factor.
Following these findings, many establishments, individuals and LEAs have carried out studies to investigate evidence of the dip, contributory factors and ways to smooth the KS1/KS2 transition and sustain child progress. This article summarises some of the contributory factors and suggests what you can do to smooth the transition in your setting.
Contributory factors
If your child tracking data is showing that, between KS1 and 2, children are making little or no progress – or even regressing – this could be a result of the following factors. Take the test in the box opposite and see which factors apply to your school!
A lack of recognition of the need to adopt a transition policy or to take a proactive approach to smooth the transition for children.
Less parental involvement as the shift in reading moves towards independent reading and an assumed expectation by parents that homework should be completed independently.
A change in setting where the transition involves a move to a new school – ie, an infant site to a junior site.

KS1

and

KS2

teachers' planning and assessing in key stage groups with no interfacing.
A sudden expectation of working in a more independent manner (for example, less help with changing for PE, responsibility for personal belongings, less classroom support).
A lack of cross-key-stage observations and feedback about teaching methods, style and content.
A lack of transfer of sufficient relevant personal information (not just academic) about each child.
Many new ways of working, such as writing and underlining the date and title, working on A4 paper with line guides, beginning to learn a cursive style of handwriting, increased curriculum demands, less opportunity for learning through play, a longer day with fewer breaks.
Smoothing the transition
If some or all of these factors apply in your setting and, as a school, you feel the need to take a proactive stance to reduce the dip, why not consider these ideas:
Develop a policy document – to deal with continuity of progression, as children transfer between year groups and make the transition between key stages. This policy document should take into consideration:
Timetabling a series of transition meetings, to determine and decide upon timescales for the implementation of actions that need to be taken to put in place the smooth transition action plan – the first being in early spring;
Specification of the transfer records which are to be provided for the Year 3 teacher

BEFORE

the autumn term (tracking sheets, writing portfolios, reading and spelling scores, IEPs, teacher observations, assessments, etc).
Hold transition meetings with timetabled actions, including:
Year 2 and Year 3 teachers collaborating to plan a transition unit of work to be started at the end of the summer term and completed at the start of the autumn term;
Planning a series of 'Shuffle Up' or 'Year 3 Taster' days;
Providing opportunities for the Year 2 children to play in the Year 3 playground;
Arranging to transfer some display work from the Year 2 classroom;
Organising for Year 2 children to have book buddies in

KS2

;

KS2

teachers and teaching assistants observing several lessons in

KS1

and vice versa;
Timetabling

PPA

time where Year 2 and Year 3 teachers can carry out some moderation of levelling;
Integrating some of the resources and features of 'Learning through Play' into the Year 3 classroom to allow for learning through practical experience;
Providing information to parents about how learning changes and what support is needed in Year 3;
Providing Year 2 children with transition 'passports' where the different timetabled activities can be stamped to increase their confidence about the move – eg, I know where the Year 3 toilets are; I have played in the

KS2

playground;
Implementing strategies to develop children' independence in learning skills

BEFORE

they start Year 3. For example, begin to use a ruler to underline dates, begin to move away from activity sheets, encourage group work, use

PSHE

time to discuss being grown-up;
Considering how Year 3 autumn term schemes can include an element of pursuing enquiries and interests and how the greater degree of teacher direction and increased formal style of learning can be phased in;
Considering the differences in adult/child ratios in your setting between the two year groups and whether there could be more teaching assistant support time provided in Year 3 during the initial settling in period;
Formulating a Transition Information Pack for parents and/or holding an information evening for parents which explain the changes their children will be experiencing, and details how home support can help.
What next?
Once you have decided on the actions relevant to your setting, create an agreed timeline and STICK TO IT! Possibly the most important actions to be implemented, though, are the increase in communication between key stage teachers and the observations across the two key stages.
Good luck in smoothing your children' transition!