Performance Poetry Workshop (Part 3) – My brother…
30 April 2009
Add to My Folder
In this final part of our poetry workshop films, we see Paul Cookson working with Year 3/4 children to create a class poem on a Families theme.
Themes like Families and Home are great choices for poetry writing because children don't have to invent ideas, they can use memories – eg: Mum embarrasses me when she…; I wish Dad wouldn't…; Dad thinks he's funny because…; Mum is the boss because…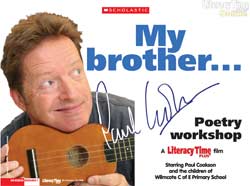 Here, Paul moves the children on to a creating a more thoughtful poem. The workshop draws on common memories, shared experiences. You'll find the children saying, "Yes, my nan does that.", and will get a range of moods in the poems, from the funny to the poignant.
Shared writing
Ask the children to think of a parent, step-parent, grandparent, auntie or uncle figure – someone older, whom they know lots about. Tell them you are going to ask some questions and they must write a list for their answers. They can then turn the list into a poem.
The questions
How would you describe this person? Use obvious words/phrases – eg, short, tall, no hair, blue eyes, big hands, glasses. (For my granddad I'd say: Bald head, long sideburns, glasses, four chins, beer belly.)
What habits do they have? It's all about the little details. Bite their nails, whistle, play with their teeth, crack knuckles, pick their nose. (My granddad used to walk round with his glasses on his bald head and say "Has anyone seen my glasses?")
What do they

ALWAYS

say? Eg, 'It weren't like that in my day, we didn't have computers!' 'Were you born in a barn?' 'Haven't you grown?
What clothes do you always picture them in? (My grandparents lived in Eastbourne so I only saw them once a year, usually in the summer. So I picture my granddad wearing his big Hawaiian shirt that he couldn't tuck in and sandals with socks!)
Do they have any hobbies/interests/things they always do – eg, crosswords, gardening, watching/playing sport, bingo, cooking?
Is there a place you associate with this person – eg, the shed, kitchen, a favourite chair, or a place you went on holiday or visited with this person?
Do you have any other special memories of this person? Favourite foods, TV programmes or a song that makes you think of them?
Previous learning
Children should have experience of: using appropriate intonation when reading and reciting; listening to others in class; explaining reactions to texts, commenting on important aspects; making adventurous word/language choices; using planning.
Shared writing
There are several ways to turn the ideas into a poem. Firstly, read out one child's ideas. At the end of each section, say "That's my granddad" or use any special names – eg, Granddad George, Granny May). Using 'my granddad' and our first couple of verses we have:


Bald head, long sideburns,
Thick glasses, four chins
Beer belly and tattoos on his arms
That's my granddad

Always walks round the house
With his glasses on his bald head
Saying "Anyone seen my glasses?" 
That's my granddad

In his baggy Hawaiian shirt
That he can't tuck in because of his belly
And his open-toed sandals - AND socks!
That's my granddad

Key learning outcomes:
To prepare poems for a performance;
To listen to a speaker;
To identify qualities of a performance;
To explain how figurative/expressive language is used;
To explore why/how writers write;
To use language imaginatively for humour/description.
Try the verses in a different order – eg, starting with memories (I remember when Granddad took me to my first football match…).
Try beginning each verse with the person's name:


Granddad Albert
Always watching football on the telly
And reading his paper...

Try starting with the funniest or most dramatic thing on the list…


My dad used to drop his false teeth onto his tongue
Just while we were having tea!
Looking at a tongue with teeth!

Alternatively, focus on one aspect or memory. I've written lots of poems about my parents – my dad especially. He was a big man with massive hands and a shock of blonde hair. (See the activity sheet below for extracts from 'Father's Hands'.) On the website you can also find 'Let Us Remember You Blonde'. My dad died suddenly just after Christmas and I wrote this for his funeral.
Draft your ideas. Read them out loud. Find out if there are any phrases/lines you could repeat and make into a chorus or a hook to hang each verse on. Redraft.
Did you miss Parts 1 and 2?
Don't worry… Parts 1 and 2 of Paul Cookson's Poetry Workshop are still available here on the website for subscribers to download. Part 1 was published in September 2008, and Part 2 in January 2009.