Challenge the children to pick the correct definition for 24 Rivers topic words in this fun, interactive game, complete with printable glossary.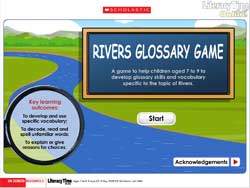 Shared teaching and learning
Before reading
How many rivers can the class name? List geographical terms related to rivers. Discuss how these should be presented in a dictionary or glossary – eg, alphabetically.
Look at the word list in the game. Try to create your own definitions.
Is it important to read the rules before playing or better to find out as you go along?
Previous learning
Children should be able to: draw together information from an on-screen text using hyperlinks; interrogate a text to deepen/clarify understanding and response; extend their vocabulary; word-process short non-narrative texts.
Key learning outcomes:
Year 3
To identify how reference texts are organised on screen;
To build stores of technical vocabulary/write non-narrative texts;
To use layout, format, graphics.
Year 4
To use organisational features to find information effectively;
To summarise/shape material to write non-narratives;
To organise text into paragraphs.
Sharing the resource
Share-read How to play. Discuss the presentation and use of imperative.
Play the game as a class: each group choosing and defining a word, while others discuss if they agree. Give reasons to back up views.
Demonstrate how to check answers.
Responding
Compare the correct definitions with the children's attempts.
Discuss strategies for pronouncing unknown words. How can the children use their phonic and graphemic knowledge? Point out words like Ganges, meander and tributary. Allow the class to use their knowledge of known conventions to try saying them.
Look at some of the incorrect definition choices. What could have prompted the author to use these as alternatives? Comment on the humour.
Take the opportunity to stress the need for safety near water (eg, a plunge pool is not a good place for jumping into a river.)
Fact file:
Longest rivers in each continent:
Africa: Nile (6,670 km) South America: Amazon (6,440 km) Asia: Chang Jiang or Yangtze (6,300 km) North America: Mississippi-Missouri (6,020 km) Europe: Volga (3,530 km) Australia: Murray (2,590 km)
Group and independent work
Allow groups to continue playing.
Encourage children to use reference texts/the internet to research the rivers.
Challenge more able children to find superlative suffixes in the definitions. Find further examples – eg, the longest river in each country; the widest deltas or fastest rapids in the world?
Give a less able group some of the words and definitions printed on card. Ask them to find ways to sort them.
Design a river map (imagined or real) using glossary terms as labels.
Create an alphabetic list of rivers – a river name for each letter of the alphabet.
Design a safety poster, outlining the possible dangers of playing near a river and what to do in an emergency.
Discuss the increasing problem of flooding throughout the world (refer to Poster 2). Find recent examples and talk about the impact these disasters have had on whole communities.
Find other river words that could be added to the glossary or provide alternative definitions for the game.
Independent writing
Challenge the children to answer the set of questions on the activity sheet below. Use maps and atlases to trace the course of a river. Write a geographical account of a river's journey to the sea.
Have the children read or watched The Wind in the Willows? Create three contrasting characters who could go on a boat trip together. Plan and write about their adventures using some of the geographical features of the river in their descriptions.
Plenary
Create a 'Who Wants To Be a Millionaire'-style quiz, where the children can ask the audience, take a 50/50 or consult a friend, to assess how well they know the definitions.
Evaluate how the game has helped the children's learning. Has it sparked an interest in rivers, increased their technical vocabulary or made them want to make similar games?
Play a reverse version of the game: give a definition and ask which word it defines.