A visual information text revealing why Africa lies at the very heart of our planet, and raises issues of global warming and environmental change.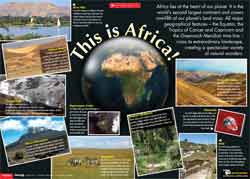 This visual information text extends geographical vocabulary and reveals why Africa lies at the very heart of our planet, with its unique geographical features and mineral riches, including diamonds and gold. It also raises issues of global warming and human impact on our planet.
Shared learning and teaching
Before reading
Establish what the children already know about Africa, dispelling any misconceptions or stereotypes by stressing the diversity of this massive continent.
Discuss what geographical information the children would like to find out about Africa. Decide on a list of questions to aid their research.
Previous learning
Children would benefit from experience of: reading non-fiction texts, extracting information, taking notes; using reference texts to find derivations/meanings of new words; recognising differences between fact/opinion.
Key learning outcomes:
To use information from a text to find out facts;
To recognise the difference between fact and opinion;
To present information effectively;
To extend technical vocabulary.
Sharing the resource
Introduce the poster, decide whether it is necessary to read it chronologically, then invite individuals to choose sections to read aloud.
During reading, pause to discuss interesting facts. Highlight the superlatives used to describe different geographical features.
Break unfamiliar names into their constituent syllables.
Discuss the diversity of languages used in Africa and how these have influenced place names – eg, Ngorongoro (Masai) and Kilimanjaro (Swahili/Chagga). Discuss how European colonialists left their mark – eg, Victoria Falls (British); Johannesburg (Afrikaans).
Talk about the author's voice – how she mixes fact and opinion as well as an informal style. Encourage the class to scan the text for examples to support their view.
Further reading
Durban Diary – Available to download from the Literacy Time PLUS website – Helen Appleton, author of these teachers' notes, and Suffolk lead teacher, shares some memories from her International Teachers' Professional Development visit to Durban, and offers a unique insight into the South African education system. Kenya Ali Brownlie Bojang (Letters From Around the World series, Cherrytree Books, 978 18423 45627). Find out what it's like to live in Kenya by reading letters from Fred, age 9, who lives near Lake Naivasha in Kenya. Other titles in the series include Italy, France and Canada. Our Rights series Jean Harrison, Katie Duckworth, Nicola Edwards (Save the Children UK). An excellent series, examining the impact of the UN Convention on the Rights of the Child on different aspects of children's lives around the world, including Africa. Titles in the series are: Education, Health, Home, Safety and Voice. For KS2 and up.
Group and independent activities
Use the outline map of Africa on the activity sheet below, together with an atlas, to locate and plot the different geographical features described in the text.
Challenge a group to devise a TV-type quiz based on information from the text, asking:

Which TV quiz will they base it on?
Who will be the question master?
Will it be a team quiz or individuals pitted against one another?
Who will their audience be?

Ask a group to decide which aspect of the text they would like to research for a presentation to the class – eg, the ecological issues raised; historical context, specific geographical features or the wildlife of Africa.
The author states that the crack which created the Great Rift Valley will one day break off completely. Use on-screen resource 2, Where it all began, and the internet to find evidence to support this statement. Find other statements that could be researched further – eg, How much does the Sahara desert grow each day?
In pairs, list challenging words from the text to learn to spell. Discuss ways of learning them (eg, breaking up into syllables, seeing a pattern).
Links with writing
Create a glossary of terms, using a dictionary, geographical reference books and the internet to find the derivation and meaning of technical terms, like savannah, Equator, Tropic of Cancer, Greenwich Meridian.
Design a holiday brochure to persuade travellers to visit Africa. Stress all the extraordinary features described in the poster, using as many superlatives as possible. Use an atlas to plan an itinerary to visit the featured locations. Use the internet to print off images to illustrate the brochure.
Use the activity sheet below to write a postcard to a friend about a visit to one of the places described in the text.
Experiment with writing poems, called 'This is Africa', describing some of the features that put Africa at the heart of our planet.
Use the poster as a model for your own posters on other countries you have studied in geography.
Plenary
Invite children to share the poems they have written.
Listen and respond to the children's factual presentations.