This biographical text explores the life of Nelson Mandela – the great man of Africa. Interspersed with quotations from his autobiography Long Walk to Freedom, it tells the story of how a boy from the Transkei grew up to become one of the world's greatest campaigners against racism and inequality and one of Africa's greatest leaders.
These teachers' notes accompany the PRINT ONLY guided reading leaflet in Literacy Time PLUS Ages 9 to 11, May 2009.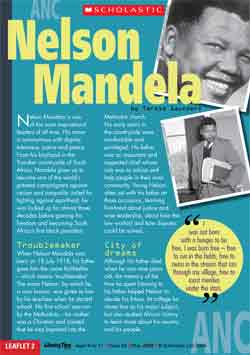 Before reading
Note known facts about the geography, history and politics of South Africa and Nelson Mandela. Refer to Poster 1.
Watch film clips showing Mandela speaking. What do you notice about him? Contrast recent/older clips.
Sharing the text
Compare the structure of this text with others in this issue.
Compare the language and tone used by Teresa Saunders with the quotes from Mandela's autobiography. Which is more dramatic? Highlight how the author weaves historical facts in with Mandela's own words.
Identify the underlying themes in Mandela's life.
Do the children empathise with Mandela? Can they visualise how difficult his life was? How do they feel about his role in civil disobedience?
Comment on his early upbringing and his father's influence, and how these may have influenced his ideas. Refer to "I had no epiphany…".
Previous learning
Some geographical/historical knowledge about South Africa and its past political situation would be helpful.
Key learning outcomes:
To present a spoken argument, using persuasive language;
To use/explore different question types;
To infer writers' perspectives from what is written/implied;
To extend achievement/experience in writing;
To use drama strategies to explore themes;
To establish, balance, maintain viewpoints in non-narrative.
After reading
Make notes on key points.
Using p4 of the leaflet, fill gaps in the children's own timelines, created using the activity sheet below.
Infer the writer's perspective. Which parts of the text persuade the reader to support Nelson's views?
Are Mandela's words formal or informal? Who is his audience? Compare his language with that of other speakers, such as Dr Martin Luther King or Barack Obama.
Speaking and listening
Hold a whole-class debate: one side speaking in favour of Mandela's actions against apartheid; the other from the Afrikaaner perspective.
Express Mandela's ideas/views through dialogue – eg, "I believe in… because…".
Use other drama strategies, like hot-seating or freeze frames, to explore Mandela's hopes, fears and desires at various stages in his life – eg, when his father died; at law school; participating in civil protests; speaking to the

ANC

and leaving jail.
Video clips of Mandela available on www.youtube.com.
Search for:
First Nelson Mandela Interview for an interesting piece of footage from an interview with Nelson Mandela by ITN's Brian Widlake from May 1961; BBC News: Nelson Mandela released from prison for some footage from 11 February 1990; Gordon Brown welcomes Nelson Mandela to Downing Street for more recent footage.
More biographies
Sir Bob Geldof – A brief biographical text about Sir Bob Geldof is on the activity sheet below. Discuss the way the information is summarised and use the text to stimulate further research/biography writing about him.
Martin Luther King – Download our I have a dream poster featuring an extract from Martin Luther King's famous speech in 1963, accompanied by two activity sheet activities, helping children to plan a persuasive speech and make notes for a discussion on growing up and dreams for the future.
Listen to the complete speech at www.americanrhetoric.com. The poster extract starts approx. 12 minutes in.
The Release of Nelson Mandela, 11 February 1990 (Dates With History series, Cherrytree, 978 18423 45375). Perfect introduction with simple text, photographs, maps, timeline, index and glossary.
Ideas for writing
Prepare different types of questions to ask about Mandela's life – eg, Why did he decide to join the

ANC

? Invite another group to answer those questions in a formal style.
Write a newspaper account of how South Africa has changed since Mandela's release, balancing positive and negative aspects.
Write a letter to Mandela expressing thoughts and asking questions about his life, philosophy and influence. Use paragraphs to organise and achieve pace and emphasis.
Using research and information from the text, create an interactive biography of Mandela, integrating words, images and sounds.
Write a script illustrating one part of Mandela's life, developing a viewpoint through direct speech.
Plenary
Watch some of the drama scenes. Discuss how drama strategies help clarify/explore complex issues.
Summarise the positive and negative aspects of Mandela's character.
After watching the debate, identify where views were defended and the evidence used. Evaluate how persuasive language was used to influence the audience.