Kate Ruttle explores how we can improve children's understanding of the content of the texts they read.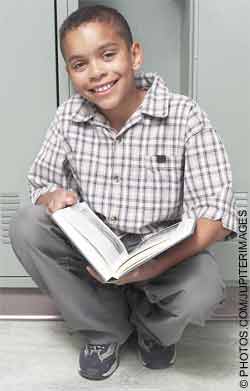 Much attention is given to helping children to learn to read the words on a page but improving comprehension is the ultimate goal – Kate Ruttle explores how we can improve children's understanding of the content of what they read.
Why do we need reading comprehension?
Reading comprehension is about understanding and engaging with text, not just at a recall level but at the more complex levels which involve using inference and deduction. Being literate does not, and should not, simply refer to the ability to decode words and read lines on a page; reading between and beyond the lines enables us to understand much more than literal decoding.
In the long term, the ability to understand text helps us in our day-to-day lives. It is nearly impossible to find a job nowadays which does not require some level of reading and analysing text, however short: contracts, emails from the boss, health and safety notices and so on, all require interpretation. This skill is also useful for the functional aspects of life outside work. For example, understanding word play and how to interpret words enables us to see through the jargon in advertising and become more discerning internet users and consumers in general.
"reading between and beyond the lines enables us to understand much more than literal decoding"
As children read more widely and deeply, the written word makes a significant contribution to their developing language comprehension and knowledge of the world.
The majority of interaction with learning at secondary school, for example, depends on accessing the written word on paper or on screen. Learning to decode our alphabetic code is a time-limited process. Comprehension is a life-long process.
Excelling in comprehension teaching
To become a more effective teacher of reading comprehension, close and careful ongoing assessment of a learner's development and ability is key. Without identifying errors, and helping children to understand the reasons for them, it is very difficult to teach the right thing at the right time.
Research shows that there are five strategies for teaching comprehension with which most teachers will be familiar – prediction, questioning, clarifying, imagining and summarisation. Selecting from these five will help children to decipher and understand texts.
Well-established teaching approaches – such as direct instruction, teacher modelling and guided work followed by independent practice – provide children with the opportunity to understand, learn, and develop their comprehension skills.
Teacher modelling is particularly effective in helping children to understand how to help themselves when they are unsure of meaning. For example, a teacher can illustrate strategies of self-awareness ("I don't understand this sentence so I'll reread it slowly to see if that helps." or "I'm not familiar with this word, I think I'll use a dictionary to look it up rather than guessing.") to train children to try these approaches themselves.
Teaching tactics
To be adept at reading comprehension, children need to operate at a number of levels. Importantly, they need to recognise words on a page, decoding the text to extract meaning. They also need to understand the sequence and structure of a text (recognising how flashbacks work and how one paragraph relates to another, for example) and to be able to generate inferences from what they read, such as understanding that a character is a 'baddie' because of actions or qualities described.
Full comprehension is about the integration of meaning from the text with a child's own experiences of the world. If a child cannot connect to a scenario, emotion or context of a piece of prose, their understanding will be limited.
It is clear to see why a limited vocabulary or a lack of understanding of structure can impede comprehension. So, we can treat each of these aspects of learning to read as building blocks, focusing on those aspects where children need most help.
"Teacher modelling is particularly effective in helping children to understand how to help themselves"
Children also need to be made aware that there are different ways of looking at texts depending on the information needed. If these methods of text analysis are instilled early in learners, they will be able to manage their time effectively during reading comprehension as well as making it easier to find the correct information. If a child is to find out what a text is about, skimming the whole piece will provide a general overview of the content. If a particular piece of information is needed to answer a question, scanning for a particular word or phrase will uncover the relevant section. When a critical examination of a sentence or paragraph is asked for, then looking closely at this section, reading and rereading in depth will be the best method.
Listening comprehension
Listening comprehension is dependent on oral language skills. It draws on similar abilities to reading comprehension – vocabulary, grammar, communication and metalinguistic features such as idioms and metaphors. Listening comprehension can therefore be a good predictor for reading performance. However, listening comprehension makes different demands on the learner. For example, there is no permanent record of what is said when listening.
Some children need to be taught to listen and this can be done by structuring the learning to offer children increasingly complex, longer pieces of oral language. With carefully selected content (for example, a piece which lends itself well to sequencing), teachers can guide learners through the oral text with cards or diagrams, helping them to break down and piece together the text.
Choosing effective comprehension resources
Together language and reading comprehension are vital tools for life. If you are looking for support in the teaching of these skills, there are a number of resources available, but a sign of a good resource is one which includes:
Kate Ruttle is author of Cracking Comprehension, a Key Stage 2 resource supporting the teaching of reading comprehension through interactive whiteboards and which features text extracts from top authors, such as Ian Beck, Anthony Horowitz and Michael Rosen.
For more information visit www.risingstars-uk.com or call 0871 47 23 010.
Opportunities for interactive and collaborative learning around the text;
A wide range of genre of texts, such as poetry, fiction and non-fiction;
Structured texts which support the development of the necessary skills;
A way to assess children's progress, recognising success and areas for further learning;
Opportunities for guided work as well as independent practice;
Engaging texts which will encourage and interest readers;
A variety of texts which can be used for modelling different skills;
A way for children to monitor their own learning.