Author's Notes
The following extracts come from a diary I wrote while on an International Teachers' Professional Development (ITPD) visit to Durban, in South Africa, back in October 2007. I wrote this diary each morning, following the day on which I had experienced the events. I would usually start writing in long hand in my journal at about 5am and write for about an hour. The diary represents my honest thoughts and my initial reactions. In typing them up, I tried hard not to edit or alter them with hindsight.
The South African Education system refers to Principals, Educators and Learners (as opposed to heads, teachers and children/students) and I have tried to use those terms as far as possible.
The South Africans use the term coloured to identify mixed race. It is not seen as a derogatory term. Black usually refers to African Zulus.
We will be printing an extract from Helen Appleton's Durban Diary each day for one week, starting on 30 April.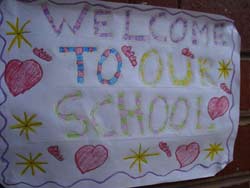 Monday 22nd October
Mini conference
An amazing day with so much to digest. The mini conference was so valuable in setting the scene and putting the South African Education system in its context.
The convoluted structure of the South African Education system which existed before 1994 and the end of Apartheid was shocking. This history is vitally important to understand the system and its challenges today.
The facts about the state of schools collected in an audit in 1998 after the end of apartheid was also very shocking:
24% of schools had no water;
more then half of rooms in schools had no electricity;
34% had no phone;
66,921 toilets were needed as 13% of schools had no toilets and 47% had only pit latrines;
30% had media centres, which actually meant some sort of library of books!
The process of addressing these problems is on going and the inequality of provision is still a huge problem. Fees are based on the income of the catchment area (schools charge what they think parents can afford). So this has a huge impact on the quality of education, buildings, teachers, resources, etc a school can provide.
"The status of teachers – and their pay – is also very low"
The talk on recruitment was very interesting and highlighted the shortage of well-trained teachers and the lack of support staff. The status of teachers – and their pay – is also very low.
English is a second language for many of the children which is an added complication to their other needs.
The hope and optimism of the school to improve and find ways to augment their meager state funding was humbling.
Addington Primary School
In the afternoon we visited Addington Primary which, because it is a former white school, I expected to be well-resourced. The fantastic head, Mrs Gail Theumissen (known by the staff as 'Mrs T') was very welcoming and she stressed the importance of aspirations. The school was very shabby: peeling paint and ripped lino; very old desks and equipment but very bright displays and home-made visual aids in classrooms which house up to 45 children and are half the size of our classes. The thing that shocked me most was the lack of books and the state of those that were there: tired, old and uninspiring picture books which would have long ago been put out for re-cycling! But despite the physical state of the school, there was a strong ethos of optimism.