Helen Appleton's Durban Diary – Sunday 21st October
30 April 2009
Add to My Folder
Author's Notes
The following extracts come from a diary I wrote while on an International Teachers' Professional Development (ITPD) visit to Durban, in South Africa, back in October 2007. I wrote this diary each morning, following the day on which I had experienced the events. I would usually start writing in long hand in my journal at about 5am and write for about an hour. The diary represents my honest thoughts and my initial reactions. In typing them up, I tried hard not to edit or alter them with hindsight.
The South African Education system refers to Principals, Educators and Learners (as opposed to heads, teachers and children/students) and I have tried to use those terms as far as possible.
The South Africans use the term coloured to identify mixed race. It is not seen as a derogatory term. Black usually refers to African Zulus.
We will be printing an extract from Helen Appleton's Durban Diary each day for one week, starting on 30 April.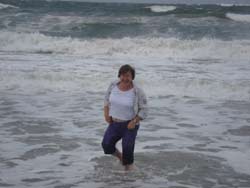 Sunday 21st October
Preconceptions
I expect that there will be a wide range of contrasting experiences – from very well resourced and managed schools to very basic, ill-equipped ones.
I imagine there will be a huge social divide between what would formally have been white, higher income catchments (and I suspect that still exists) to low income, poor, black communities.
Although I only know a very little about Apartheid – I suspect it has cast a long shadow. How has the education system changed since the end of segregation?
I am anxious about what my reactions might be to areas of poverty. I don't want to appear 'pitying' or condescending to our hosts.
I am sure I will learn more about my own prejudices and misconceptions than anything else.
Meeting with Bruno van Dyk (Trip organizer)
Bruno talked about his thinking behind organizing the trip and the schools we are to visit. It all sounds amazing. I am so looking forward to the conference tomorrow when we will get more detailed information and background to the education system.
"There is no free education in South Africa. Everyone pays fees"
I think the most overwhelming fact to come out of the meeting is that there is no free education in South Africa. Everyone pays fees. That must have a huge effect on the quality of provision – eg, on buildings, teachers, support staff, resources, attitudes and health. I still suspect that the provision of education will be very much along racial and socio-economic lines and that white children will still be getting the best deal.
On the journey from the airport we saw a huge variety of housing from large detached houses set in their town grounds with beautifully manicured gardens to a real shanty town with houses (or sheds really) made from wood and corrugated iron. No doors, crammed next to each other on the hillside beside the motorway. Really shocking. Bruno says townships were built behind hills (so as to hide them from the white population).
I had a brief walk around the hotel and into the amazing Shopping Mall opposite (reputed to be the largest in the southern hemisphere) – very westernised and affluent. I was struck immediately by the ethnic mix – black, Asian, Arabian, Japanese and white.
The shops I saw were very up-market and exclusive. The restaurants ranged from Fish and Chips, Pizza, Nachos to a very exclusive looking Indian restaurant.