Helen Appleton's Durban Diary – Tuesday 23rd October
2 May 2009
Add to My Folder
Author's Notes
The following extracts come from a diary I wrote while on an International Teachers' Professional Development (ITPD) visit to Durban, in South Africa, back in October 2007. I wrote this diary each morning, following the day on which I had experienced the events. I would usually start writing in long hand in my journal at about 5am and write for about an hour. The diary represents my honest thoughts and my initial reactions. In typing them up, I tried hard not to edit or alter them with hindsight.
The South African Education system refers to Principals, Educators and Learners (as opposed to heads, teachers and children/students) and I have tried to use those terms as far as possible.
The South Africans use the term coloured to identify mixed race. It is not seen as a derogatory term. Black usually refers to African Zulus.
We will be printing an extract from Helen Appleton's Durban Diary each day for one week, starting on 30 April.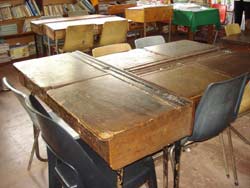 Tuesday 23 October
Glenmore Primary; The Open Air School and Chelsea Primary
Today's schools were very different.
The first school we visited, Glenmore Primary, had previously been a white urban school. We were greeted by their white, male Principal, David Spiteri. I immediately felt this school was far better funded than Addington. The fees were 6,500 Rand pa, but still the Principal said the funding was inadequate. However, they had had a donation to build a very impressive admin block with a very comfortable staffroom, entrance lobby area and library suite including a bank of computers.
70% of the children came from the townships – ie, African Black, 20% were white and 10% mixed race (Coloured or Indian). There were 500 children in the school altogether, and funding of 60,000 Rands comes from the state. There were up to 38 children in a class with an average of 32.
Maths was taught by traditional methods but OBE (Outcome Based Education) was used and adapted for group work and role play.
There was little stress on the social and emotional aspects of learning, although an Educational Psychologist came in twice a week (paid for by parents) as well as a trauma councillor, to help deal with bereaved children (through AIDS), abuse (three cases in the last year) and violent crime including house break ins.
The children were very friendly and confident. They were delighted to show their work and one group read to me from their group reading books. The school had two libraries which were big spaces with a lot of books but many were shabby and outdated. Children were using New Way and Ginn reading schemes but there appeared to be a lack of good quality up to date and exciting free reading books.
"The children were very friendly and confident"
The classrooms were not large and had old fashioned desks but there were lovely outside areas and walkways. I watched a Teachers' Aid taking a group of children for reading outside.
The Open Air School
Next we visited the Open Air School designed specifically for children with physical special needs but cognitively able to access the same curriculum as other children in mainstream schools. An extraordinary place with amazing facilities including a medical block staffed by two nurses and visiting doctors; a physiotherapy room including hydrotherapy pool; speech therapists and Braille Facilitator.
We visited the early years classes where one teacher had the support of a 'cleaner', who helps with toilet issues, cleaning the class and helping children change for PE, etc.
There were special facilitators but far too few for a school of this nature. The children were taught to be independent and this was very clearly a strength of the school: we saw children walking around despite severe physical impairments (or using wheelchairs or crutches) very confidently.
The school also receives charitable donations and has been able to build on extra facilities. There was a strong ethos of "I can, I will" which is reflected in their children's achievements and aspirations.
The librarian, a retired member of the teaching staff, runs a writing club and I bought three books of published poems and short stories written by children. The library was relatively well resourced.
I felt that those children lucky enough to attend this school are getting the best possible start. Fees are 3,700 Rand per year. The school has 255 children but because of weighting get staffing for 1000.
What a fantastic place!
Chelsea Primary School
We briefly visited Chelsea Primary School in an affluent suburb of Durban. Immediately I was struck by how like a private British Prep School it looked. Huge playing fields including a brick built scoring wall. The school had a very well maintained exterior and a rather ostentatiously grand entrance and reception area.
"There was a huge emphasis on academic success and great demands on the teachers to deliver"
The teaching staff all appeared to be white with a high proportion of men. Every teacher was very well dressed. Although the Principal was out, I could see into his very comfortably appointed office and that of his deputy. The classrooms, although better than those we have seen elsewhere, were relatively shabby compared to the public parts of the school.
The classes appear to be being taught in a very traditional way – desks facing the blackboard (no whiteboards or computers in class rooms.) Although there was a very large library with adjoining computer suite, many of the books looked worn and grubby. The sports facilities were excellent, however. Cricket nets in the indoor sports hall, separate from a massive assembly hall. Fantastic swimming pool and pictures of past children who have excelled at international level in their chosen sport.
The teacher who took us round told us that there was a huge emphasis on academic success and great demands on the teachers to deliver.