Helen Appleton's Durban Diary – Wednesday 24th October
3 May 2009
Add to My Folder
Author's Notes
The following extracts come from a diary I wrote while on an International Teachers' Professional Development (ITPD) visit to Durban, in South Africa, back in October 2007. I wrote this diary each morning, following the day on which I had experienced the events. I would usually start writing in long hand in my journal at about 5am and write for about an hour. The diary represents my honest thoughts and my initial reactions. In typing them up, I tried hard not to edit or alter them with hindsight.
The South African Education system refers to Principals, Educators and Learners (as opposed to heads, teachers and children/students) and I have tried to use those terms as far as possible.
The South Africans use the term coloured to identify mixed race. It is not seen as a derogatory term. Black usually refers to African Zulus.
We will be printing an extract from Helen Appleton's Durban Diary each day for one week, starting on 30 April.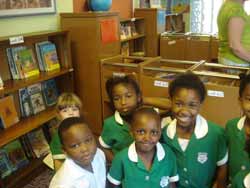 Wednesday 24th October
Carrington Heights Primary School
Carrington Heights Primary School had formerly been a white school, but had closed after reorganisation. The nearby shanty town had no school, so in 1995 the parents organised themselves and occupied the buildings. Within a week the school had reopened and staff had been appointed. The current principal, Annabel Momple, started at that time as a class teacher. Her commitment and drive was evident from the moment she started talking to us about the school.
There were 504 children in the school, (as opposed to 120 when it was a white school!). There were 18 fully qualified teachers, including the principal and one music teacher. They also had a computer teacher, three teachers' aids and one trainee teacher. Two of the teachers were male, 50% were Zulu, two Afrikaans and three White, including the principal.
The ethos of the school was very clearly one of nurture and inclusion. English was very much a second language so the school had set up a multiracial team (which is unusual) to bring different approaches and ideas. Teaching in Zulu and English was encouraged, with Maths being taught in both languages. Afrikaans was also taught.
Parents really valued their children's education and they were encouraged to come in as volunteers and be trained to become teachers' aids. There was a CPD poster prominently displayed in the staffroom and this professional development appeared to be a high priority.
The learners had all sorts of challenges to face: social, economic and language. Some of the children come into school literally starving, so they had set up a feeding scheme and we saw children lining up to receive bread and spread at break time. There is no school dinner service as such in South Africa although all the schools we have visited had a tuck shop. Problems with Aids and sexual abuse as well as violent crime were a real issue. A volunteer social worker comes to help talk through these issues with affected children.
The principle told me that most staff have a faith, be it Christian, Muslim or Hindu. On Sunday the hall is used by a Baptist fellowship group. They get help from both Muslim and Catholic groups. She also has set up links with a Church of England School in Lancashire, who have funded a computer for them.
Within the fees they include excursions at no extra charge and send home a free school photo every year to promote the children's self-image. On their fundraising fun day they make sure there are lots of free activities so children do not feel excluded.