Helen Appleton's Durban Diary – Thursday 25th October
4 May 2009
Add to My Folder
This item has 4 stars
of a maximum 5
Rated 4/5 from 1 rating (Write a review)
Author's Notes
The following extracts come from a diary I wrote while on an International Teachers' Professional Development (ITPD) visit to Durban, in South Africa, back in October 2007. I wrote this diary each morning, following the day on which I had experienced the events. I would usually start writing in long hand in my journal at about 5am and write for about an hour. The diary represents my honest thoughts and my initial reactions. In typing them up, I tried hard not to edit or alter them with hindsight.
The South African Education system refers to Principals, Educators and Learners (as opposed to heads, teachers and children/students) and I have tried to use those terms as far as possible.
The South Africans use the term coloured to identify mixed race. It is not seen as a derogatory term. Black usually refers to African Zulus.
We will be printing an extract from Helen Appleton's Durban Diary each day for one week, starting on 30 April.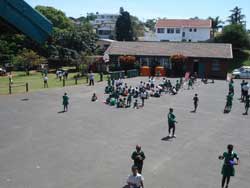 Thursday 25th October
Phoenix High School
Today we visited two former Indian schools and our welcome was tremendous. Before 1994, this type of school was better funded by the government than African schools and the Indian community, who value education highly, had also contributed more. This legacy is still evident today.
In the first, Phoenix High School, we were taken straight to a Year 11 drama class. The children were performing their group assessment pieces to the rest of their class. It was clear they had put a lot of work into their performances. One boy, in particular, stood out and moved me deeply. He had tremendous stage presence. The group's subject was "Proud to be South African" and he said the most memorable quote of the trip so far: "If hope was made of gold, I would be a billionaire". The piece projected a great pride in being South African but was very open about the problems that face poor black learners. "I might not have a balcony, but my shack is everything to me" was another great line.
"If hope was made of gold, I would be a billionaire"
There was one Indian boy in the group, the rest were Black. He joined in all the Zulu songs and dances. It was a striking example of cross-culture exchange.
Rockwell Primary School
Rockwell Primary School had also previously been an Indian school and in both places you could see the legacy of good buildings and resourcing, as well as structures like a Prefect system.
Our welcome was very formal and well planned. We were greeted by the Head Boy and Head Girl (identifiable by their special Royal Blue Ties with their role printed on it under the school logo. In both the Indian schools, as in most others we visited, uniform was worn, but here we noticed how very smartly dressed the children were. We were then meet by a succession of other prefects, who shook our hands and guided us to meet the Principal, Mr Govender. The school has 427 learners, 12 state funded teachers and a bursar. The fees are 450 rand per annum, of which 60% pay in full and about 30% pay nothing.
The school served a poor area with the poverty, unemployment and health issues we had come to expect on our visit. 57% were African Zulu or Xhosa, 42% Indian and one per cent Coloured. There were no pure White learners.
They school ran a feeding programme. (State-aided feeding programmes are only provided for primary schools, not secondary.) Apparently, where there is no scheme, better provided for children will share their lunch with less fortunate friends.
"Where there is no scheme, better provided for children will share their lunch with less fortunate friends"
The school also gets support from the Hindu Divine Light Society, who support feeding and health programmes. The School is predominately Christian but also has Hindu, Muslim and traditional Zulu religious groups. The school has a daily assembly, where the prayers are addressed to 'Almighty God' and are translated into Zulu.
When we asked about HIV and AIDS, the principal said they had no awareness of the problem in their school. I do understand, though, that between 20-30 of the children were orphans and 80% of the children were looked after by Grandparents.
This was a more formal school but still the children were very friendly and open. The Indian influence of formality and hospitality were every much in evidence.