Author's Notes
The following extracts come from a diary I wrote while on an International Teachers' Professional Development (ITPD) visit to Durban, in South Africa, back in October 2007. I wrote this diary each morning, following the day on which I had experienced the events. I would usually start writing in long hand in my journal at about 5am and write for about an hour. The diary represents my honest thoughts and my initial reactions. In typing them up, I tried hard not to edit or alter them with hindsight.
The South African Education system refers to Principals, Educators and Learners (as opposed to heads, teachers and children/students) and I have tried to use those terms as far as possible.
The South Africans use the term coloured to identify mixed race. It is not seen as a derogatory term. Black usually refers to African Zulus.
We will be printing an extract from Helen Appleton's Durban Diary each day for one week, starting on 30 April.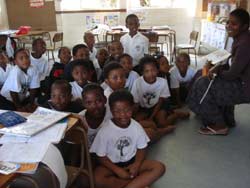 Friday 26th October
Rural schools – Qinisani High School
What a day! What a contrast! What an overwhelming experience.
We were escorted to two rural schools in Upper Tongaat, an area about an hour away from Durban, by Suzanne Edmunds (CEOP of Project Build, an organization that works to upgrade schools in rural areas of South Africa.)
The High School had 611 learners, all Zulu speakers. 17 classes with a ratio of 38:1. They charged no fees at all (no point, parents don't have any money!)
"I saw children carrying desks from one room to another, presumably because there was not enough furniture"
There were very basic resources, water supply and electricity available, but these were inconsistent. Toilets were too few and pit latrines. The Principal had a mobile phone but I didn't see a land line. I saw children carrying desks from one room to another, presumably because there was not enough furniture. The classrooms I visited very Spartan, with no displays or extra furniture, like book cases, at all.
The Principal stressed that education is everyone's responsibility but the Government was moving very slowly. Project Build on the other hand would pay to build and provide builders (who were independent micro enterprises in themselves) in less than six weeks. Schools had to fund-raise a proportion of the cost themselves.
The Government provided 550 Rand per annum per child. There was no feeding scheme (some of the children were fainting with hunger) and the head told me of cases where children from the primary school, who did have a scheme, would only eat half their daily portion, in order to give the rest to their older siblings. There were 8 teachers but no support staff and no possibility of getting any. Problems such as illiteracy, poverty and AIDS were too great. However, despite the difficult social problems the learners were very welcoming and most appeared excited to see us.
Msengeni Primary School
The last school we visited on our trip also have us by far the biggest welcome. We could hear a call go out as soon as the children realized we were coming. The result was completely spontaneous and totally overwhelming. The children ran to the vehicles as soon as we arrived and gently mobbed us. It was very emotional and I cried openly. The whole school, including the teachers and governors came to greet us with warm Zulu handshakes and hugs.
The Principal settled the children and said how delighted they were to have us at their school and that we were the first group of visitors they had ever had. The children sang for us in the open where they had congregated.
"The children ran to the vehicles as soon as we arrived and gently mobbed us"
The school has eight teachers and seven classrooms for about 280 children, class sizes varied up to 49.
The Principal proudly showed me his very small office and the light switch, junction box, fluorescent light – but no electricity supply. There was even an old photocopier covered by a piece of cloth and an equally geriatric overhead projector but nothing to power them. There was a land line but the line was inconsistent, so the principal uses his mobile.
Again, the school ask for no fees but there was a good feeding scheme run by local women.
The children were working in very old workbooks and there were no displays or posters on the walls. The environment was very Spartan and yet Roxy (a reception class teacher in our group) thought that the reception class was actually the best she had seen in terms of the way it was set out, with a dressing up area, writing corner, etc.
This school was full of bright, excited looking children, with huge potential for learning. They loved having their photographs taken and giggled when shown the results!