Author's Notes
The following extracts come from a diary I wrote while on an International Teachers' Professional Development (ITPD) visit to Durban, in South Africa, back in October 2007. I wrote this diary each morning, following the day on which I had experienced the events. I would usually start writing in long hand in my journal at about 5am and write for about an hour. The diary represents my honest thoughts and my initial reactions. In typing them up, I tried hard not to edit or alter them with hindsight.
The South African Education system refers to Principals, Educators and Learners (as opposed to heads, teachers and children/students) and I have tried to use those terms as far as possible.
The South Africans use the term coloured to identify mixed race. It is not seen as a derogatory term. Black usually refers to African Zulus.
We will be printing an extract from Helen Appleton's Durban Diary each day for one week, starting on 30 April.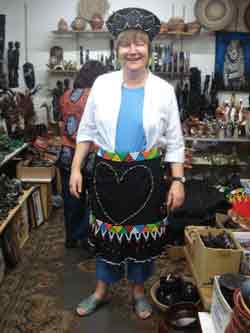 Postscript, May 2009
When I got back home we did some fundraising for books for the Carrington Heights school and raised about £500. It was good to draw attention to how much we have compared with children in South African State schools. We had an 'Africa' week when I dressed up in my Zulu outfit and we played Djemi drums. I also gave a talk to our local Church and to teachers in our pyramid.
I am still very much in contact with the other teachers who went on the trip and the coordinator has visited me since to discuss the long-term impact the visit had on me and on our school.
"South African families really see the importance of a good education in order to get on"
I know the trip has changed me and made me much more aware of how fortunate we are in our school. The number one thing is the fantastic teaching support staff we have – not only the quality of the support but the amount of it. Also how good our career development opportunities are. In this country, it is possible for someone to start off as a volunteer parent helper in class and progress through to HLTA. Incredibly hard work, but the opportunities are there. In Durban there really aren't any teaching assistants to speak of, and while the authorities want to promote the idea of people coming into schools as a starting point to develop a career in teaching, they have a long way to go.
The vast majority of children in our school do want to learn, but compared to the children I met in South Africa there is not the same passion for learning. South African families really see the importance of a good education in order to get on: they were so full of hope and expectation of a better future.