Allison Lee offers advice on being wary of scams, how to deal with a parent who is always late in collecting their child, and provides some activities to get the children active
Expert advice
Scam alert!
There are many different types of scams that you should be aware of. However an important rule to remember if you do not feel comfortable about something, is to stay on your guard. One particular scam that has recently been 'doing the rounds', and one that I myself have been personally targeted with, is through the emailing of an enquiry from a potential customer currently living abroad and looking for childcare in the UK. If contacted childminders appear to be able to help the person carrying out the scam, the 'parent' will eventually try to extort money from them. This is usually performed by the 'parent' sending a deposit cheque for too much money and requesting the childminder to refund the difference. However, once the childminder has refunded the 'difference', the parent's original cheque bounces.
If you are concerned about any scams, contact Consumer Direct on 0845 404 0506 or online at Consumer Direct You can also obtain the booklet, How to Recognise a Scam, available from the Office of Fair Trading, by calling 0800 389 3158.
Q&A
How should I handle a situation when a parent consistently arrives late to collect their child?
Sometimes, arriving late to collect a child is unavoidable, and childminders need to be flexible when the weather is bad or the traffic is heavy. However, if a parent consistently collects their child late, with no reasonable explanation, and their lateness has a negative impact on your own family life, then you must say something if you are to avoid tension and resentment.
This type of situation can be dealt with effectively:
Remain calm and explain why the late collection is becoming a problem, for example, you might need to attend a training class, or one of your own children needs to be at football practice or dance class.
Try to work out an amicable solution to the problem. If the timing does not inconvenience you, then you may like to renegotiate the contract to take the new time into account and charge a fee accordingly. You may wish to suggest that the parent arranges for someone else to collect their child, or give you advance warning so that you can make alternative arrangements yourself.
Point out politely to the parents that your working hours were agreed when the contract was signed and these should be adhered to as far as possible.
Activities
Get active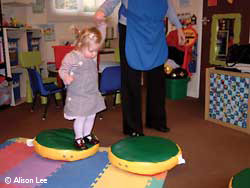 Obstacle course
Practice jumping, weaving and balancing
Physical Development
What you need
Cushions; chairs; books.
What to do
Clear a suitable area. Set the cushions out in a line, put the chairs in a row and place a pile of small books on the floor.
Help the children to jump from one cushion to another; encourage them to weave in and out of the chairs and challenge them to walk in a straight line balancing a book on their head.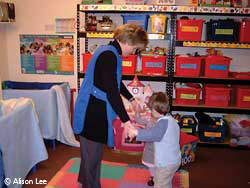 Musical movements
Enjoy some action songs and rhymes
Creative Development
What you need
Cassette recorder and music tapes or CD player and CDs.
What to do
Teach the children some simple actions to favourite songs such as 'Ring-a-Ring o' Roses' and 'The Wheels on the Bus'. As the children become more confident, introduce more complex actions and sequences that they have to remember as they sing the songs.