Two literacy experts give their response to Sir Jim Rose's Independent Review of the Primary Curriculum.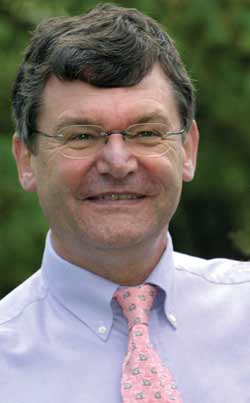 Professor David Wray, Literacy Time PLUS columnist
Two of the key recommendations of Sir Jim Rose's Independent Review of the Primary Curriculum are the increase in emphasis on Speaking and Listening, and the strengthening of ICT, giving it equal weighting alongside literacy and numeracy. Both recommendations have, in principle, been well received by literacy experts.
"The review's definition of literacy is very positive," says Jonathan Douglas, Director of the National LIteracy Trust, who is pleased to see the review asserting the importance of speaking and listening skills. "While it may not seem radical, this affirmation is incredibly important. Literacy has tended to be defined by reading and writing skills, while assuming speaking and listening will develop organically… Speaking and listening skills underpin all learning and are the start of all other literacy skills."
Jonathan continues: "A stronger commitment to speaking and listening skills within the primary curriculum will support all children, particularly those who currently start school with language skills so impoverished that they are in danger of not being able to access the curriculum."
Step in the right direction
Professor David Wray, Deputy Director and Professor of Literacy Education at the Institute of Education, University of Warwick, feels that placing ICT at the core of the primary curriculum alongside literacy and numeracy is a "step in the right direction".
"In the world outside school," he said, "literacy is changing. Technologies like podcasts and blogging involve new forms of literacy and 'digital literacies' are becoming as important as traditional print literacy."
False distinction
However, Jonathan Douglas is concerned about the skills described as constituting ICT capability by the review which, he says, appear to be the deployment of basic literacy skills but through digital media. "To distinguish between 'finding and selecting information', 'communicating and sharing information' and 'manipulating and processing information' through digital sources as opposed to traditional print resources creates a false distinction."
He continues: "Worryingly, it may result in literacy skills becoming increasingly tied to traditional and printed resources and seen as separate to the skills used for digital resources. Ultimately, this could undermine their relevance in a technology-focused world. To avoid this, ICT capability must either relate to a more specifically technical grouping of skills, or to those characteristics that are unique to managing communication through ICT (such as interactivity, the nature of online relationships, the provenance and mutability of content) and the skills required to manage them."
What happens next?
Ministers will decide which of the recommendations in Sir Jim Rose's report they wish to take forward. The proposals they accept will be subject to a 12-week public consultation period which will allow further opportunities for interested parties to comment on and help to improve what is put forward. The target date for introducing the new primary curriculum is September 2011.
The Independent Review of the Primary Curriculum by Sir Jim Rose is available to download or to order online. For more information go to www.dcsf.gov.uk/primarycurriculumreview/