This interactive story kit supports children to plan, tell and write their own mystery story set in ancient Egypt. The blank storyboard allows them to drag and drop a selection of characters and settings to plot the outline of their story, while the sentence frames and connecting phrases provided will scaffold the use of the language patterns and sentence structures that are useful in mystery stories.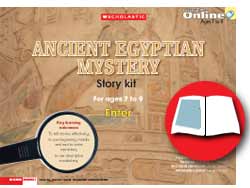 Previous learning
Children will need to have listened to or read several mystery stories so they are able recognise and use the key features of the genre. Discuss mystery stories they have watched, such as Scooby Doo cartoons or the Indiana Jones films.
Preparation
To make best use of the content of the text and enjoy it fully, the children need some knowledge of ancient Egypt and the likely roles, jobs and lifestyles of the characters they choose. That way they will be able to subvert these slightly, or swap character's roles in order to hide things from their audiences or provide the element of surprise needed in mystery stories. Provide some props and artefacts to enable the children to act out parts of their stories in order to empathise with their characters.
Shared learning and teaching
Shared reading
Explore the interactive text with the children, showing them the settings and the characters.
Recap some of their historical knowledge regarding everyday life in ancient Egypt.
Choose a character and use the activity sheet to note typical activities and features of their daily life. Name the character, explaining how this can help to develop characterisation.
Read together the opening sentences and analyse which ones immediately set the scene for a mystery story. Some use the settings, while others use action to intrigue the reader.
In pairs, discuss what might follow on from that opening (eg, action, description and speech) and which character it might involve. Then choose a connective and think about how this could be used at this stage.
Look at the endings and consider which might be appropriate to round off scenarios. Model this if necessary.
Read together the adjectives and adverbs, explaining and modelling them in sentences to help children understand any new vocabulary.
Shared oral composition and shared writing
Use one of the openings and a child's idea for a character and what followed. As a class, agree on one setting where this would have taken place. Use the activity sheet to explore/note down ideas and to enhance what is included when describing the setting.
Model composing an opening paragraph orally. Now model writing this, focusing on aspects of sentence structure and punctuation relevant to the children's needs.
Choose one further setting then plot out the remainder of the story using the storyboard. Allocate the frames to different stages of the story. Eg:

Opening
Building tension
Further tension development
Problem or dilemma revealed
Problem solved and, possibly, character's true identity revealed
Ending

Model how to compose orally and in writing for each section. Demonstrate how to use different paragraphs for action or to build suspense, and how to show (not tell) an audience what a character is feeling.
When adding dialogue, use paired role play to try it out and help decide how it should be said.
Group and independent activities
Key learning outcomes:
To tell stories effectively;
To use beginning, middle, end to write stories with sequenced events/conflicts resolved;
To select and use descriptive vocabulary;
To use settings and characterisation to engage;
To use connectives.
Further reading
The Mona Lisa Mystery by Pat Hutchins (Red Fox, 978-0099997504) is a hilarious example of a children's mystery story.
In pairs or groups, choose one or two settings and a main character, and practise orally composing different openings. Compare how effective they are.
If an

ICT

suite or laptops are available, plan new stories using the interactive text.
Tell the new mystery stories in pairs or small groups.
Encourage the children to practise using some of the adverbs and adjectives from the interactive text.
Use guided writing to support the children to write their stories, on paper or using a word processor.
Make a class collection of other opening and ending sentences that are suitable for mystery stories.
Plenary
How effective are the openings and endings in the children's stories?
Read some stories and identify the features of mystery stories.