Invite children to become inventors during this year's D&T Week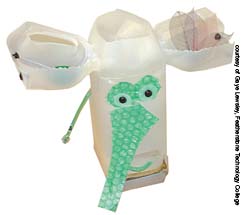 Introduce something a little different to this year's D&T Week (22-26 June www.data.org.uk), and D&T sessions in general, by encouraging children to explore and design products from fast cars to fashion items.
Remember, all practical D&T activities should be based on a product that has to be designed using appropriate and authentic materials for a specific end user and purpose. Products should be evaluated at each stage of the design process. Children should also recognise the importance of their design fulfilling its intended purpose to meet the requirements of the programme of study for D&T. The result – real-life products for real-life situations.
Activities
Monday: Food
Invite your class to become food inventors for a day. If children aren't already familiar with it, introduce them to the idea of 'the eatwell plate' (www.nutrition.org.uk). Then, ask them to design and make some dips and dippers for a special occasion and/or person using ingredients from each of the food groups. Allow the children to be taste-testers first and to then decide what dip they'd like to make. For example, a spicy salsa for a group of dancers or a vegetable-based dip for vegetarians! Materials to help plan a lesson on dips and dippers are available free from The D&T Association's 'Resource Vault' (look out for the Junior Ed PLUS logo).
Tuesday: Engineering
Inspire your class to become the next Formula 1 engineers by producing the world's first 1000mph land car! OK, so you don't actually get to build and drive your school's own supercar, but every aspect of the Bloodhound Project is being detailed online for schools to get as involved in as they wish. Primary-focused D&T and cross-curricular resources are available. Visit www.bloodhoundssc.com and www.primaryengineer.com for further details.
Wednesday: Textiles
Introduce children to the world of fashion design and ask them to come up with a bag for a specific purpose and person: Who is it for? What is it for? What does it need to do? What are the most suitable materials for the purpose? What colours and decoration are appropriate?
The free software, Wild Things!®, (www.wildginger.com) lets you design onscreen and then print out patterns for some very sophisticated results. You can also use the program for hats, wraps and footwear.
Thursday: Sustainability*
Invite the children to become environmental experts! Ask them to think about the eco slogan 'Rethink, Reduce, Reuse, Repair and Recycle' and show them images or examples of different types of milk containers.
Ask the children to divide the containers into those that they think can be reused and those that can't. Then, ask them to rank all the containers from most to least sustainable and explain why they have made their choices. Which are the most sustainable? Based on this, can they now design and select materials for a sustainable milk container of their own? For ideas, visit http://greenbottle.com and for more great sustainability D&T activities, visit www.practicalaction.org.uk/education
Friday:
SEAL

and D&T

Time to be nutty professors! Chindogu is a Japanese word that means 'weird tool' and is a term to describe almost, but not completely, useless inventions – such as floor duster slippers for cats! As part of The D&T Association's resources developed to embed SEAL through D&T, the 'Chindogu/PMI (Positives, Minuses and Interesting assessment)' activity provides valuable opportunities for children to focus on the interesting and unusual, while developing their skills in critically reflecting and evaluating their own designs and others' products and ideas. (See The D&T Association's 'Resource Vault' — look out for the Junior Ed PLUS logo.)
Based on an activity by Andy Loadman, Doncaster LA's consultant.
The Design and Technology Association is the recognised subject association for D&T. It aims to inspire, develop and support excellence in design and technology education for all and it is committed to helping primary schools to achieve the highest possible standards in D&T.