Explore a Victorian townhouse and society during this era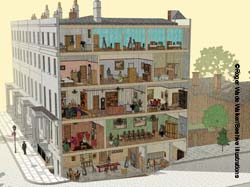 We continue exploring homes from the past in our ongoing history series by taking a look inside a typical, late Victorian townhouse. Using the Interactive resource children can take a virtual tour around the Victorian townhouse to look at different rooms and floors, zooming in to discover more detail to get a taste of Victorian life.
A side-view plan is available as part of the resource (with a separate downloadable plan available for all readers – Activity sheet, 'Plan of a Victorian townhouse') so that children can easily identify the basic features of a typical Victorian home.
Delve inside
In addition, the 3D version of the Victorian townhouse will allow your class to delve inside and take a closer look using the 'zoom' tool. As the children 'enter' the house, encourage them to discuss any items on view – who would have used these and how? The interactive resource aims to give children a taster of what it would have been like to live in Victorian Britain, and provides an ideal visual stimulus for creative writing.
This exciting history interactive is exclusively available to subscribers of Junior Ed PLUS. Read the June '09 issue of the magazine for activities and ideas to explore what life was like inside a Victorian townhouse.