Teacher talk: Children's years at school and school plays
26 May 2009
Add to My Folder
... a place to catch up on staffroom chatter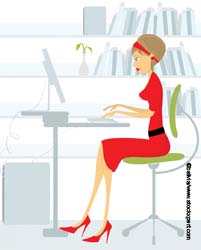 As teachers, do we make children's years at primary school valuable enough?
What are we doing for children during their time in primary school? Helping them to progress is the usual answer. But, progress to what? To secondary school? To GCSEs? To A-levels and then to university? Of course, all of these, yet, there is more that we would do well to understand. It has little to do with preparations for their future and nothing at all to do with the relentless grind of measuring and recording progress that is so ingrained in our everyday work.
At the end of every school day we should ask ourselves was today… rich, challenging and fulfilling enough to be a never repeated part of life?
A teacher's lesson
A young girl taught me this some years ago. Tragically, she died of leukaemia when she was ten years old. We had worked hard with her, helping her to understand and make skills her own so that she could prosper in the future. Then, suddenly, there was no future. Her life was complete and I realised that she had spent much of it with us in school. For the first time, I had to consider whether that time had been good enough to be part of her short life.
Childhood is precious

Sarah Denyer — NQT
The school play
Organising her first class assembly, NQT, Sarah Denyer, experienced a case of stage fright jitters…
In my school, performing an assembly is something that a different class does each week. I managed to get my class' assembly timetabled in the summer term, meaning that I had plenty of time to get to know my children's strengths first. Not to mention enough time for my NQT brain to get used to the idea!
I went straight to my Year 4 class to ask them for their assembly ideas and surprised myself when I managed to write a script that they not only approved of but were extremely excited about. They couldn't wait to find out who would be cast as 'Miss Denyer'.
Show preparations
Once the script had been penned and the children assigned characters, my TA beavered away making costumes, while I inwardly panicked about the amount of words that I had expected my class to learn and the technicalities of the performance. We had recently had a giant screen installed in the hall, along with a fancy sound system and headpiece microphones that I had no idea how to use. I started to wonder just how we were going to pull this one off…
Curtain call
As the parents began to arrive and the school hall filled up, my palms started to sweat and my heart raced. 'Come on 4D, you can do this,' I thought to myself. I needn't have panicked. The children performed wonderfully. The hall filled with applause and I knew that we had pulled it off.
Phew! I wonder what the next teaching challenge holds in store for me?
I wish it hadn't taken a child's death to teach me that what was true for her is true for all children. They are spending their lives, the time of being a child, their childhood, with us. They will never have today again. At the end of every school day we should ask ourselves not only what have they learned in preparation for tomorrow, but was today with us rich, challenging and fulfilling enough to be a never repeated part of life?
Living and learning
This idea should not be found shocking even though it runs counter to the test-driven culture that surrounds us. Knowing the children that we teach as we do, we can say with confidence that it is the quality of today that prepares them for the future. The very best way to learn is to live.

John Coe —General Secretary of the National Association for Primary Education
Chat with other teachers and have your say on our Teacher talk forum about resources, policies or lesson ideas.