Katie Cleminson's debut picture book A Box of Tricks (Jonathan Cape, ISBN 9780224083447) is out now!
Inspire creativity, ambition and discussion through the adventures of this famous balalaika-playing mouse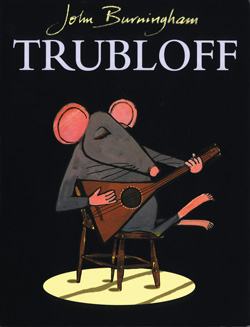 All through art school I had a picture from Trubloff pinned above my desk. The sun setting over two mice in overcoats, skiing, one with a balalaika strapped to his back. John Burningham has been an inspiration to me for many years and Trubloff (Red Fox, ISBN 9780099414285) is my favourite of all his works. This book was published 20 years before I was born, but to me it is utterly timeless, and is just as fresh and engaging each time I read it.
Burningham transports the reader to a land of sparse, snowy landscapes, skiing mice and travelling musical gypsies. The book bursts with atmosphere, adventure, pace and emotion. Children will identify with Trubloff's ambition to be the best at something, and will learn how his actions, in pursuing his dream, affect those around him.
Synopsis
Trubloff is a mouse who lives with his family at an inn, in Central Europe. Trubloff dreams of becoming the greatest balalaika player in the country and runs away to join the gypsies. Worrying about his disappearance, his mother becomes ill. His sister goes to find him and they travel back on skis, through a horrible blizzard. When they return, they learn the innkeeper wants to turn them out of the inn. However, he also needs a musician that night. When Trubloff demonstrates his balalaika skills, the innkeeper is so impressed he lets the family stay. Trubloff and his siblings form a band, which becomes famous.
Talking points
Discuss the different elements of the story. What is a balalaika? Why does Trubloff want to be a balalaika player? What do mice normally do, and where do they live?
Talk about why Trubloff ran away with the gypsies. Ask, Why did he not tell his family? How did his family feel when he went missing? Has anyone lost something? Discuss how the children think Trubloff's mother felt.
Ask, Why is it dangerous to run away at night? Emphasise the fact that Trubloff ran away on a dark, cold, snowy night, and could easily have become lost.
Do the children think Trubloff is a good mouse or a bad mouse? Talk about how the book blurs what is right and wrong. If Trubloff had not run away at the start, he could not appease the landlord at the end with his new talent.
Do the children like the book's ending?
Ambitions
One of the most endearing features about Trubloff is his ambition to be the best. Talk about occupations. Encourage the children to name as many jobs as they can, and write them all on the board. Ask each child what they want to be when they grow up. Let them draw themselves in a big dream bubble doing this, with a sentence underneath explaining why. Display all the children's dream bubbles. Discuss different activities and hobbies you may begin as a child that can lead to careers, such as a musician, dancer, footballer or gymnast.
Exploring Central Europe
The book is set somewhere in Central Europe. It could be Germany, Poland, the Czech Republic, Hungary, Slovakia, Liechtenstein, Switzerland or Slovenia. Show the children a big map of Europe and how far away Trubloff lives. Talk to them about how different the weather is there, all the different languages spoken, and the various foods eaten. Have any of the children been to any of these countries, or know anything about them? Give out copies of the map and let the children write in the names of the countries.
Family portrait
Ask the children to draw an oval frame, as in the book. Inside the frame, tell them to draw all their family, including any pets, and write all their names underneath.
Invite them to draw their house and the area around it, including any neighbours. Challenge them to draw a map of how they get home from school every day.
Mixed-media picture making
Can the children identify the mixed media John Burningham has used in the book? Is it painted or coloured in? Is it collage? What are the main colours in the book? Why do they think the illustrator uses such a limited palette? What atmosphere does it give the book?
In parts of the book, Burningham has painted over tissue paper, or cut out paper shapes and collaged them in. On the last spread it looks like he has used salt to create a textured sky. On some of the night-time spreads he has painted over black paper, using light, opaque colours to draw the characters and backgrounds.
Try using tinted sugar paper and poster paint to get a similar effect, or use watercolours and salt to mimic Burningham's technique. Show the children how to create a unique texture using a straw to blow paint bubbles. Rip shapes out of other paper and collage, or splash water and flick paint with a brush, to create another layer.
Clay characters
Clay is a great way to get children thinking about the proportions of a body. Challenge the children to make Trubloff out of clay, with a triangle head on a square body, and two large circles for ears. Paint his body grey and his ears pink. Try making a balalaika out of clay for him to play. Invite some children to work in pairs to make the clay characters, while others paint a background from the book to be used as a class display.